Congratulation Letter to an Employee on His Job Anniversary
Employees join business employers at different times so the period of service of all employees is different. One of the ways to encourage and appreciate employees is to wish them their work anniversaries. This is a great way to boost their energies.
A letter of congratulation to an employee for his job anniversary should have courteous and generous wishes and a mention of the notable services that the employee has been doing in that period. It is like telling your employee that you remember their contributions to your business and admire them.
The letter may include the announcement of a bonus with salary for the employee or the mention of a gift that is being sent to him with the letter. These are little things that matter. Not only for the employees but eventually for you and your business since your employees perform even better when admired.
1-
Dear Mr. Darren,
Today marks your fifth work anniversary with us! I would like to congratulate you on your achievement on behalf of the entire woodwork company. Five years of experience in a company is a significant landmark and it shows your sincerity and commitment to your work.
We acknowledge all the hard work you have put in your job over the years and have managed over two dozen projects during this time. Our trust in your abilities has only strengthened during this time.
Many interns and lower staff were also trained by you over the years and each of them had good things to say about you and the company. We would once again like to congratulate you on your outstanding achievements!
As a gesture of goodwill from our side, we would like to offer you a small gift. We have decided to offer you a bonus from the company. We have enclosed the cheque with this letter and hope that you will like this little gesture from our side.
We hope that you continue to benefit from your service in the years to come and that you will continue working with the motivation and dedication you have always shown at work. We also hope that other employees will get inspired by you and work with the same zeal as you always have!
Best regards,
Office management.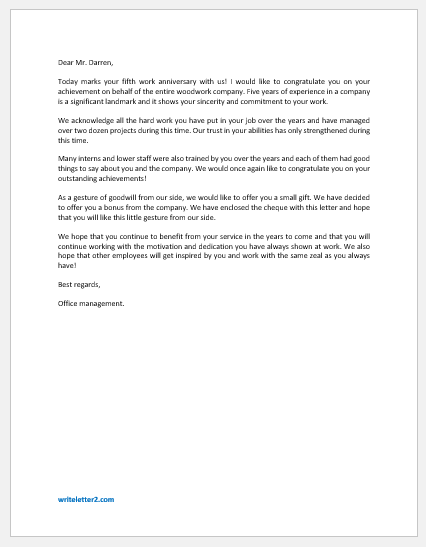 Size: 16 KB Word .doc File 2003 & later
2-
Dear Mr. Angelo Simpson,
You have successfully completed ten years of service with us today. We would like to congratulate you on your outstanding performance and consistent output. You have contributed to the success of our company in many ways and have always given due importance and respect to your profession.
Punctuality is one of your most commendable characteristics and you have been chosen employee of the month several times because of your punctuality. Not only have you have always been to work on time but also take minimum leaves to ensure that the work gets done on time.
We are indeed proud of you as our valuable employee and a mentor for junior workers. Many of our workers have been trained by you who have also proved themselves, hardworking dedicated employees, as you always have been.
We want to extend our goodwill and give you a small token of appreciation from the company. We have arranged a one-week vacation for you and your family to Turkey. The details of this are attached with a separate document. This is a small present from our company to reward you for your outstanding achievements.
In addition, we have decided to give you a ten percent increment in the salary with effect from this month. Please come to HR as soon as possible so we can sign the new salary agreement. We hope to see you with us for a long and we are excited to see what you will do next. We wish you continued success in the years to come.
Regards,
Office management.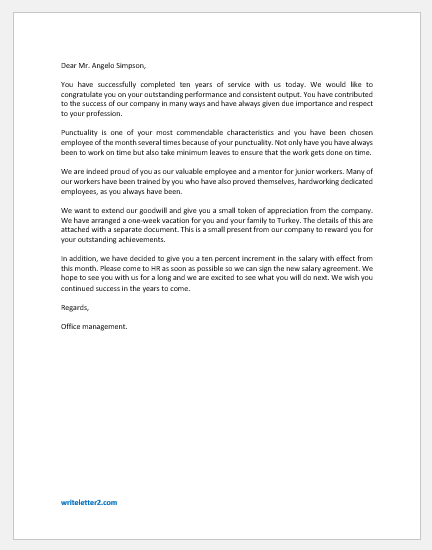 Size: 16 KB Word .doc File 2003 & later
3-
Dear (Recipient's Name),
Many congratulations! It's your [3rd, 4th, etc.] job anniversary at the [enter company]. It has been a great company with you all these years. You have been putting honest efforts into your work for which I really admire you. On this day of your work anniversary, I would like to specially make mention of your services for the company last year at [enter details]. I am of course fortunate to have you at the company. Please accept my heartiest congratulations and this small gift to add to my felicitations. Thank you!
[Your Name]
[Senders Title] -Optional-