Letter to Reprimand Employee for Excessive Account Usage
1-
I [Title] [Name] from [department name] am writing to you regarding your internet usage in the previous month during office hours. As you know that every employee's bandwidth usage is monitored and everyone has been assigned a very generous limit keeping in mind the demands of the work assigned to them.
Your internet usage was twice your account limit which does not match the requirement of your work. These privileges and perks come with the understanding that the employee would not exploit the trust put in them by the organization. Please ensure that such a lapse doesn't happen again as it creates a bad taste and is very inconvenient for others who have to share the bandwidth with you.
Also, the management has decided that from this month onwards anyone spending over their account limit would be charged for the excess amount. We look forward to more responsible conduct from you in the future.
Yours sincerely,
2-
Dear Mr. [name]
I [Title] [Name] am writing to you on behalf of the [department name] regarding the excessive account usage by you on the work trip to [city name] on [date]. You were allocated a TADA of [amount] from the company's account.
This is a perfectly reasonable amount considering that you only had to stay there for a day and this not only covers your travel expenses but also the meals you had and the hotel stay charges. You have used an additional amount of [number]. This is not only against company policy but also unfair to the other employees. You are hereby, informed that this amount would be deducted from your next month's pay. Please be careful to stay within the budget from next time onwards as it reflects badly on you as a person and is highly unreasonable.
Looking forward to more responsible conduct from you in the future,
Yours sincerely,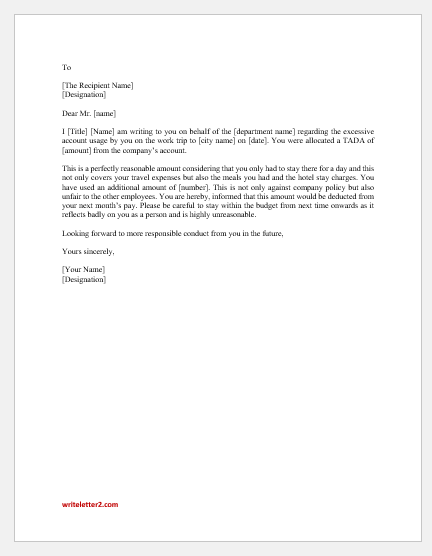 It causes big problems when business employees start using office resources for personal use. There are some employees who are trusted but they are the same employees who play unfairly sometimes. In case an employee is suspected of making unnecessary use of the company's account, it is important to reprimand him and ask him for explanations. This letter can be used to reprimand an employee for making excessive use of the company's account and ask him for explanations.
3-
Dear [recipient's name],
As you already know, you have been allocated at the [enter branch] of our company as [enter title] and have been entitled to use the company's account to withdraw money for payments or to deposit the money that has been earned in cash. This shows that you have been trusted much by the company.
This letter is to inform you that I have received the monthly report from the bank. This report shows the detailed activities, withdrawals, and deposits made to the company's account. To my surprise, there were more than expected withdrawals made in the last month. I hope you know the limits of the company's account usage. If an exceptional use of account was made, you were expected to inform us about that.
In response to this letter, I would like you to meet me at the main office on [enter date] at [enter time]. Before the meeting, I also want you to reply to this letter and explain the said issue briefly. Thank you!