Letter to Accept an Invitation to Business Appointment
Business appointments are the backbone of the business. It is through meetings that businesses engage with potential clients, their partners, competitors, and business foes. These meetings allow businesses to help one another to make themselves according to the growing needs, to accept new challenges, and to compete for the best. Businesses arrange appointments in order to introduce their service or product to the other businesses in line or to advertise their services in order to grab potential clients.
If a business appointment is received, one being a business professional is due to respond to the invitation by either accepting it or excusing it by mentioning the reason. The letter given below can be used to accept an invitation to a business appointment.
1.
I [name] [designation] from [organization name] received your invitation to attend your open house on [date] at [place].  I would like to confirm our attendance.
We process marble and granite and convert them into building products and materials required in construction. Our clients include some of the top builders in the market and also private customers. The secret of the quality of our marble and granite lies in our mining source. The natural stone we mine, has a very rich color scheme; making it very attractive to look at. Also due to our excellent processing post-mining, it becomes much more durable yet low in cost as compared to the artificial equivalent products available in the market.
We have now decided to expand into the installation side too. We have recently completed our first installation project and the feedback has been very positive. We would like to offer our installation services to you too. The rates are highly competitive with the market and the quality of work is unmatched as we are the producer and the installer both, unlike other installment companies.
We have a lot to discuss and are looking forward to this meeting.
With regards,
2.
Dear Mr. [name]
I [name] [designation] from [skin care Products Company] would like to formally accept your invitation for the business appointment on [date].
Your salon's reputation precedes your invitation. The phenomenal rate at which you have multiplied your branches is very impressive and speaks volumes about the quality of service you are offering.
Our products have been around for more than [number] years now. We started with skincare and then expanded into makeup and hair care. We pride ourselves on using 100% natural products and no animal testing. Our formulas are safe for the skin and hair as they are organic and free from harmful chemicals. We have just launched a new series of lip tints which are selling like hotcakes.
All the leading salons are using our products. We offer different discount packages based on the products the client is interested in. we can also source authentic products from other companies which are not available locally. A collaboration between us would be mutually profitable and will definitely add value to the customer's experience. Looking forward to seeing you and discussing the way forward.
Yours sincerely,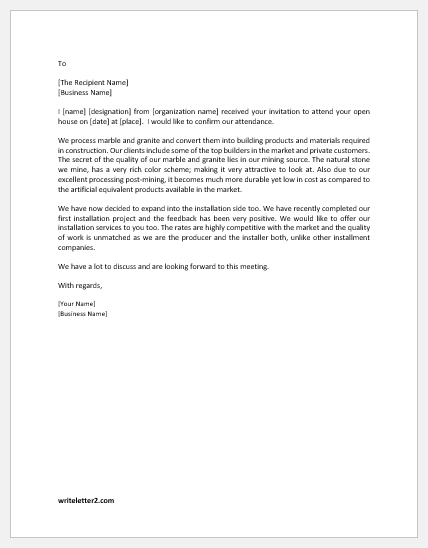 Size: 14 KB Word .doc File 2003 & later
3.
Dear [Recipient's Name],
I am honored to receive an invitation from you for this important business appointment and I thank you for including me in the invitees. As you mentioned, the meeting is about [enter details], I expect that this will benefit many of us. I also anticipate this meeting as a way to strengthen the business bonds. There is no way that I would want to lose such a big opportunity to attend this important meeting. Much cordially, I am accepting your invitation and assure to join you there at the appointment on [enter date]. Thank you!