Letter to Accept an Invitation to a Business Appointment
Business appointments are the backbone of business. It is through meetings that businesses engage with the potential clients, their business partners, business competitors and the business foes. These meetings allow businesses to help one another, to make themselves according to the growing needs, to accept new challenges and to compete for the best. Businesses arrange appointments in order to introduce their service or product to the other businesses in line or to advertise their services in order to grab potential clients.
If a business appointment is received, one being a business professional is due to respond to the invitation by either accepting it or excusing by mentioning the reason. The letter given below can be used to accept an invitation to a business appointment.
Letter to Accept an Invitation to a Business Appointment
Benjamin Franklin
[Address]
[Letter Date]
[Recipients Name]
[Address]
[Subject: Subject of Letter] -Optional-
Dear [Recipient's Name],
I am honored to receive an invitation from you for this important business appointment and I humbly thank you for including me in the invitees. As you mentioned, the meeting is about [enter details], I expect that this will benefit many of us. I also anticipate this meeting as a way to strengthen the business bonds. There is no way that I would want to lose such a big opportunity to attend this important meeting. Much cordially, I am accepting your invitations and assure to join you there at the appointment on [enter date]. Thank you!
Benjamin Franklin
[Senders Title] -Optional-
Download Details: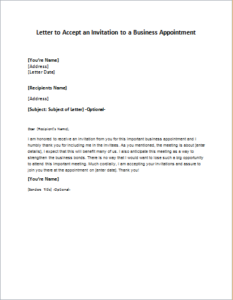 Letter to Accept an Invitation to a Business Appointment

Size: 25 KB Word .doc File 2003 & later
Download
Size: 284 KB PDF File
Download
[personal use only: Not for Resale & Distribution]