Letter to Client Informing them of Check not received Yet
I am writing this letter with reference to our verbal communication on call on 10th December 20XX. You were informed about the issue in payment regarding the November service. You informed us that you had sent a check for the payment of services for the month of November however our finance department informed us that the check had not been received.
If you have already sent the check and think there has been an error from our side, please write back to us with details. We will check it on our end and locate the issue. In case the check was never sent on your behalf, we request you to please send it as soon as possible as the payment is already late by about 17 days.
We value your business partnership with us and have enjoyed a good professional relationship with you for the past eight months we have been of service. The payments from your side have never been late and your checks have always cleared on time. I also wish to inform you that a late fine is imposed on payments which are delayed by more than five days.
However, due to our previous cordial relationship, we have not placed a late fine on your payment. We do however urge you to send us the payment check as soon as possible to avoid any further inconvenience.
Thank you for your cooperation in this matter.
Regards,
Nova Communication.
2.
Dear Ms. Angela Simpson.
We hope all is well at your end. I am writing on behalf of Cashmere Furniture and Co and wish to inform you that we have not received your paycheck yet. As per your request, we dispatched your furniture order by the end of November even though half the payment was still pending. We were informed by your secretary that the furniture was needed urgently for an event that was scheduled for the very next day.
Keeping in mind our previous successful business transactions, we agreed to it and sent you the furniture with half the payment pending. However, after sending multiple reminders, we still have not received the check. This is a reminder for you to please send us the pending payment through check as soon as possible.
We also want to remind you that we have a ten percent late fine on all payments that are late by fifteen days. We urge you to please make sure to send the check as soon as you can to avoid paying the late fine which will be inevitably imposed if the check is received later than three days from now. The fine will be added to your next month's bill. We have had a good professional relationship in the past with you and would like to continue being of service to you.
However, we want you to know that we have certain payment policies which cannot be relaxed any further than they already have been for you. We hope to hear from you regarding this matter.
Regards
Mark Antonio.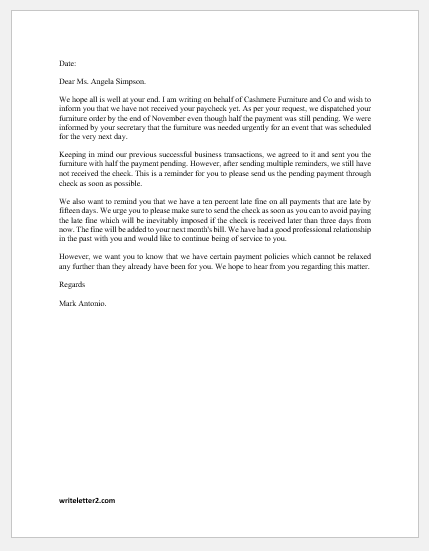 Size: 13 KB Word .doc File 2003 & later
When businesses deal with clients, the billing method is decided in the deal too. Some clients do not pay via online bank transactions rather prefer to paycheque to the servers. It is understood that forgetfulness is a part of being human. A client can possibly forget that he has a payment due to him. To remind him, a letter can be written regarding the non-payment of dues or the cheque that he is late in sending.
Please note that there is a whole lot of difference between reminding someone and warn someone. Clients are your assets and all of them are respectable people with a few exceptions included.
The late cheque or non-payment on the part of a client can possibly be due to a mistake or forgetfulness. It is, therefore, recommended to write a polite and professional letter first, only reminding him about the cheque that he had to send. You can write this letter to your client to remind him about the cheque that hasn't been received.
3.
Dear [Recipient's Name],
I am writing this letter to you to remind you that you had taken our services [enter services/products] during the month of [enter month], the details of which are enclosed in the documents. I would like to inform you that we haven't received the cheque for the services that you were supposed to send by the end of the previous month.
We understand that being a busy person you possibly had forgotten about the payment or were entangled in the business issues. It is requested to please send the cheque as early as possible. We will be grateful to you and hope to continue successful business relations with you. Thank you!