Letter to Client Informing Them of Check not Received Yet
When businesses deal with clients, the billing method is decided in the deal too. Some clients do not pay via online bank transactions rather prefer to pay cheque to the servers. It is understood the forgetfulness is a part of being human. A client can possibly forget that he has a payment due to him. To remind him, a letter can be written regarding the non-payment of dues or the cheque that he is late in sending. Please note the there is a whole lot of difference in reminding someone and warning, someone. Clients are your valuable assets and all of them are respectable people with a few exceptions included.
The late cheque or non-payment on the part of a client can possibly be due to a mistake or forgetfulness. It is, therefore, recommended to write a polite and professional letter first, only reminding him about the cheque that he had to send. You can write this letter to your client to remind him about the cheque that hasn't been received.
LETTER
Dear [Recipient's Name],
I am writing this letter to you to remind you that you had taken our services [enter services/products] during the month of [enter month], the details of which is enclosed in the documents. I would like to inform you that we haven't received the cheque for the services that you were supposed to send by the end of previous month. We understand that being a busy person you possibly had forgotten about the payment or were entangled in the business issues. It is requested to please send the cheque as early as possible. We will be grateful to you and hope to continue successful business relations with you. Thank you!
Selina Gomez
[Senders Title] -Optional-
Download Details: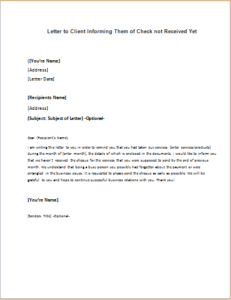 Letter to Client Informing Them of Check not Received Yet

Size: 26 KB Word .doc File 2003 & later
Download
Size: 283 KB PDF File
Download
[personal use only: Not for Resale & Distribution]