Account Cancellation Letter Due to Non Payment
There are many accounts that are free but some accounts want a continuous particular payment to remain active. In the case of non-payments, the accounts are terminated. It can be an online account, a bank account, departmental account, credit account or any other paid service registration account. Account cancellations letters due to non-payment are written by companies to their clients to inform them about the cancellation of their account when they have continuously been postponing their dues.
The below-mentioned letter of account cancellation due to non-payment can be used to inform a client about his account cancellation. The letter is generalized so can be used for multi purposes with slight alterations.
LETTER
Dear [Recipient's Name],
We are sorry to inform you that your account has been canceled due to non-payment. We have continuously been writing warning letters to you but did not get any response from you. To follow our rules and regulations, we cannot further be any lenient and hereby canceling your account. Our service is still here for you 24/7.  In the case you wish to resume your account, please contact us. We will surely be glad to resume our services with you but the payment of pending due is the condition.
For further information, contact at your earliest on our toll-free number 555-5555-5555.
Sincerely,
Johny Patrick
[Senders Title] -Optional-
Download Details: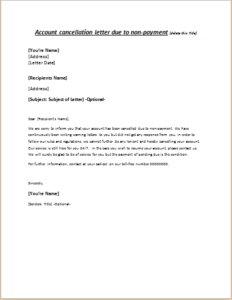 Account Cancellation Letter Due to Non-Payment
Size: 28 KB Word .doc File 2003 & later
Download
Size: 292 KB PDF File
Download
[personal use only: Not for Resale & Distribution]