Notice to Staff to Adhere to the Shift Timings
Sample -1
Subject: Notice to staff to adhere to the shift timings

Hello everyone!
I hope everybody will be fine. This notice is meant for all of you working in the company office regardless of your post. Throughout the last month, I had received a lot of complaints about your negligence towards your work and office timings from your manager. He told me that most of the staff members are in the habit of noncompliance with the shift timings and in addition, assigned work is also not being focused and taken care of. Despite issuing you with the warning letters, you have not changed your routines yet and due to this reason, I decided to address you directly through this letter.
Owing to your continuous violations regarding shift timings, management has decided to deal with the matter strictly and from now onward, all of you are supposed to observe the prescribed shift timings firmly. If anyone of you is found violating respective shift timing, strict disciplinary action would be taken against such employees.
Moreover, you are hereby directed to mark your attendance on a daily basis and with exact timing. In addition, those employees who are in a habit of pending their assignments deliberately hereby warned to restrain from such activities. From now onward, late submission of tasks and assignments will be dealt with strictly and not tolerated at all.
I hope you all will show compliance with the above-mentioned instructions. These are meant for your betterment to grow you in a more professional way.
Yours sincerely,
[XYZ]
Size: 21 KB Word .doc File 2003 & later
Download
---
Sample -2
Subject: Notice to staff to adhere to the shift timings
Dear all,
Adherence with shift timings is what is commonly known as punctuality and this is actually the trait that I wish to be developed in each and every employee of my company. But I regret to say that most of the employees in the company have not been blessed with this trait as they do not take care of their allocated shift timing. This bad routine had reported me by the office manager owing to which, I have been enforced to address with you directly through this notice.
Being the CEO of this company, after my detailed meeting with the chairman HR department, I wish I hereby announce that the official timing for all shifts has been fixed with immediate effect. Now it is the sole responsibility of each and every employee of the company to adhere to prescribed timings without any discrimination.
If an employee gets late by ten minutes in any shift, the half-day salary of that employee will be deducted. In the same way, leaving time will also be recorded through biometric attendance. So, it is being anticipated that you people will never want your salary to be deducted by all means.
The core purpose behind taking these hard steps is nothing but to develop a sense of responsibility in latecomers who do not observe their shift timings. Our decision may also create some difficulty for the habitual time violators but equally good for those who are punctual. So, in the light of the above-mentioned directions, all employees are directed to adhere to their respective shift timings. From now onward, in case of any violation, strict disciplinary action will be taken against such employees.
Yours sincerely,
[C.E.O.]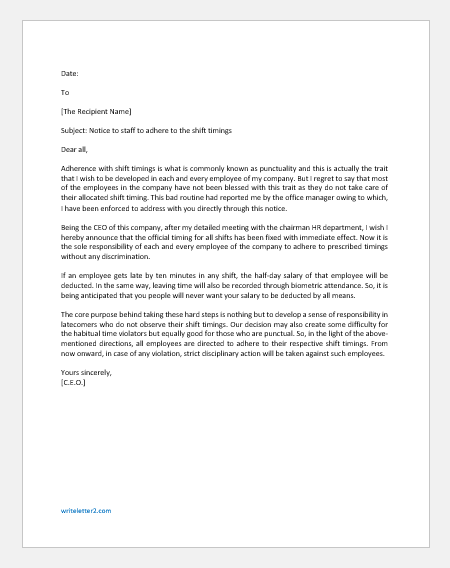 Size: 22 KB Word .doc File 2003 & later
Download