Warning Letter for Tampering Timecard
Sample Letter -1
Subject: Warning letter for tampering timecard

Dear Spencer,
I am feeling great disappointment while writing you this letter that you have been caught red-handed while tampering your timecard. No doubt, we have developed a smart and efficient system in order to trace the frauds in the employees' timecard. It was also having some drawbacks and you took advantage of these faults and added those hours during which you had not worked at all. Since you are a senior employee of this company, I was not expecting such kind of behavior at least from your side. You should have left an example for your juniors in terms of honesty and hardworking, but you are making them learn the new ways to commit fraud which is very shameful.
Being an employee of this company, you must be loyal to us and refrain yourself from doing any kind of corruption including time theft. We pay you for the time you spend in the office doing your work. Tampering with your timecard means that the money you have earned through this way is not legit.
Considering this as your first-ever mistake, we are not taking serious disciplinary action for your unprofessional act which might be counted as a professional crime. We are issuing you with this warning letter instead. You are suggested to improve yourself and make sure not to involve yourself in such a shameful act again.
Yours sincerely,
[XYZ]
Size: 21 KB Word .doc File 2003 & later
Download
---
Sample Letter -2
Subject: Warning letter for tampering timecard
Dear Mark,
Yesterday, I received an email from the HR department and felt shocked to know that you have been found to be involved in time theft through the shameful act of tampering in your timecard. It was shocking news for me because you have been with us for the last 15 years and had stood by us through thick and thin but this act of yours is beyond the level of understanding. Anyways, by committing this crime, you have lost your worth in our company and have deteriorated our employer-employee relationship.
This shameful act of yours comes under the heading of crimes in business terms and you have made yourself liable to disciplinary action. But then, considering your previous services for us, we have decided to issue you a warning letter this time. Next time, if you are found in such activities, you will not only be terminated straight away but the money you have earned through tampering will also be recovered.
Hopefully, we shall see a positive change in your behavior from now onward.
Yours sincerely,
[XYZ]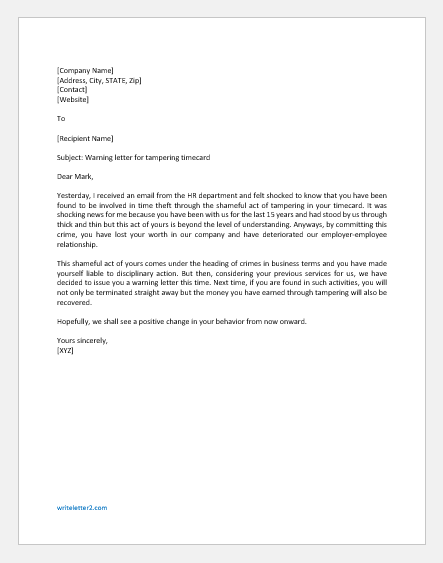 Size: 18 KB Word .doc File 2003 & later
Download