Complaint Letter for the Purchase of Faulty Photocopier
The importance of paperwork is known to everyone. Whether it's our daily dealing, buying and selling or our office work, no work is completed without paper now a day. Although, the internet has reduced the paperwork but still it cannot be completely out of our life because it is the proof and record to someone for his actions. Internet email system is not alternate of work that required signatures. Therefore, the importance of paperwork is up keeping its worth. In this view, the requirement of printers and photocopiers has also increased with the passage of time. In other words, there is a common requirement of a single printer or photocopier with each computer. But the problems with printers or photocopiers are also very common and with the development of technology, it is getting almost impossible for a common person to fix it. Because latest printers and photocopiers are not based on ordinary cartridge system but they are controlled through embedded software that uses laser ink. Therefore, if any problem arises, manufacturer renders it services to fix the problem.
Complaint Letter for the Purchase of Faulty Photocopier
Paper Solution Store.
Henry Jackson.
13 St. Dove Avenue, Washington DC.
4th June 2017.
Mr. Christopher James.
Manager
Electronic Appliances Retail Company.
32 St, Big Hall Avenue, Washington DC.
Dear [Recipients Name],
I am writing to complain about the photocopier I bought from your company about two days ago. Initially, it was showing connectivity error upon connecting it to my computer. I called to the service center to get help through customer's services technical rep and I was told to install the relevant software. I did so but the problem remained the same. Thereafter, I was told to change the window settings and certain steps in this regards were also guided to me but all efforts remained futile. Finally, I was told that same issue is being the complaint by numerous clients and diagnosis revealed that built-in software is corrupted. It is therefore requested to either solve the problem through refreshing the built- in software or replace the item on an immediate basis. I would be grateful to you for your kind response and services to solve the issue.
Looking eagerly for your support.
Sincerely,
Henry Jackson.
The Owner, Paper Solution Store.
Download Details: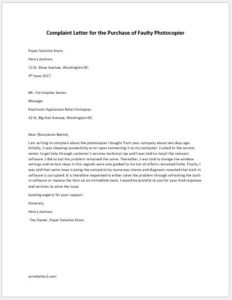 Complaint Letter for the Purchase of Faulty Photocopier

Size: 54 KB Word .doc File 2003 & later
Download
Mobile Version: Polaris Office & Google Docs
Size: 17 KB File
Download
[personal use only: Not for Resale & Distribution]