Complaint Letter about Verbal Abuse
A good environment in the office develops a productive team and enhances the output of assigned job. In other words, a good office atmosphere eventually leads a company to the productive side. But this all depends upon the nature of job and head of the department or boss. If a boss is professional and skillful in deploying the right man for the right job then there is a rare chance of any complaints from the employee. The boss should also realize the constraints of assigned job and if an employee commits any mistake then he should handle the situation tactfully without disturbing the office environment. It is not necessary to punish the employee for every mistake or scold him without knowing the limitations. On the other hand, if the employee is not satisfied from his immediate boss then he can follow the chain of command and highlight his views to higher command.
Complaint Letter about Verbal Abuse
Citigroup Textiles Ltd.
Lewis Jackson
11 St. Crest Avenue, San Francisco
7th October 2017
Mr. Kevin Baker
Managing Director, Citigroup Textiles Ltd.
11 St. Crest Avenue, San Francisco
Dear [Recipients Name],
I hope you are good at your health. I am writing a letter to complain about my General Manager. It has been three years that I am performing the duty of sales manager in your company and none of my bosses ever had any complaint about me. All of my colleagues and clients are also very happy with my work. But a sad incident happened at the last night event. I was not involved in arranging the last night event because the event manager was managing all the related tasks and nobody bothered to keep me in the loop due to obvious reason. All of sudden General Manager called me and ordered me about arranging the banners that he had given to event manager. As, I was not in the ring and getting myself ready to join the event at night, so, he started scolding me on phone and during his shouting, he started abusing me. This is the matter of great disrespect for me and I hope you would take the notice of such incidents.
Looking eagerly for your cooperation.
Sincerely,
Lewis Jackson
Download Details: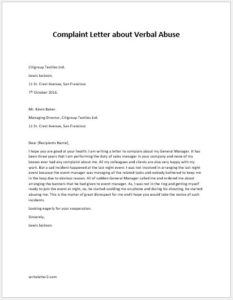 Complaint Letter about Verbal Abuse

Size: 29 KB Word .doc File 2003 & later
Download
Mobile Version: Polaris Office & Google Docs
Size: 21 KB File
Download
[personal use only: Not for Resale & Distribution]