Letter Announcing Office Closing due to Financial Problem
When the owner of the company decides to close the office due to financial problems, he should inform all the members of the staff. Since closing an office is something very serious¸ the letter is written in serious and regretting tone. Adding the subject in the letter is very useful for the reader. The letter should appreciate the loyal employees who have been very sincere with the company even in the bad times. It should also express the concerns for those employees.
Whatever actions you are going to take including the closing of the office should be explained in the letter. All the bad news can ruin the letter so it is better to combine the bad news with the good news and keep the tone of the letter soft.
Also, tell the reader that you really understand their problems which they will have to face after the closing of the office. Make them believe that it is better to close the office rather keeping it remain open and cut down the salaries of the workers. If you have planned any strategy for your business or to reopen the office after few days or months, do mention them in the letter. Moreover, if there is any plan to call a meeting before opening the office again, you can write the date of the meeting in the letter. End the letter with the positive tone and wish all the employees best of luck for the future.
LETTER
Dear [Recipient's Name],
Due to the financial problems and rising cost, we are unable to retain our office services. All the responsibilities of this office will be transferred to the main office. We will also transfer some of our employees for smooth processing of work. I regret to inform that you will not be able to be with us anymore. We will give you separate pay package along with good referrals for other jobs. Wish you all the best for the rest of life.
[Youe Name]
[Senders Title] -Optional-
Download Details: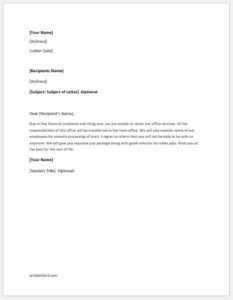 Letter Announcing Office Closing due to Financial Problem

Size: 29 KB Word .doc File 2003 & later
Download
Mobile Version: Polaris Office & Google Docs
Size: 17 KB File
Download
[personal use only: Not for Resale & Distribution]