Letter to Patient for Inappropriate Behavior
Sample -1
Subject: warning for inappropriate behavior 

Dear Johnson,
This is Michelle Franklin, MS of Holy mental hospital, Michigan and I am writing you this letter to inform you that you are at the danger of losing your status as a registered patient in this hospital. No doubt I am working on an administrative position but being a doctor, I do care for my patients and always concerned about their good health.
This is evident from the fact that I call the meeting of doctors on a daily basis and ask them about their performance. But at the same time, I show a lot of strictness when it comes to doctor's respect. Our hospital has a zero-tolerance policy about any kind of misbehavior including harassment, abuse, and violence.
Yesterday, I was informed by your doctor that you abused and even tried to beat him while he was injecting your serum on the 15th of August 20XX.  In this way, you have not only violated our discipline policy but has caused great harm to the concerned doctor's respect. I was shocked to hear from him this kind of behavior exhibited by you. No doubt that patients with mental disabilities often show such kind of behavior but your medical reports are showing that you have 95% recovered so this kind of attitude is not tolerable at all.   
Your inappropriate behavior has harmed the trust between you and us which should be maintained in doctor-patient relations. So, this was the first time you misbehaved with our doctor and that's why we are sending you this warning letter.
Any further violation exhibited by you will debar your right of visiting this hospital forever. Consequently, you will not be able to get the healthcare facilities for yourself and your family also which are being provided by the government free of cost.  
If you have any queries about our policy or about this letter, you should contact us as early as possible.
Yours sincerely,
MS of Holy Mental Hospital
Michigan.
Size: 23 KB Word .doc File 2003 & later
Download
---
Sample -2
Subject: Letter to patient for inappropriate behavior 
Dear Franklin,
This letter is supposed to be considered as a warning letter in response to your inappropriate behavior exhibited by you on the 15th of August, 20XX at 2:00 p.m. in the medical ward of Michigan Social Security Hospital. As reported by our respected doctor Lee, when he came to visit you for a routine check-up, he asked you a few questions. Instead of answering him, you became aggressive, tore his coat and you even tried to beat him. He also got a few scratches on his face due to your rudeness.
Mr. Franklin, we do have a list of some questions for the patient's own sake and every patient must answer these questions for us to have an idea about his health improvement. This kind of behavior is harmful both for the patient and the doctor. We have a zero-tolerance policy and have developed some disciplinary guidelines to be followed both by our staff and patients. Your inappropriate has caused great harm to our doctor's respect. Normally, we terminate our relationship with such ill-mannered patients.
Since you are our regular patient and have some mental disabilities, therefore, keeping in view your current condition, you are being issued with this warning letter. Any further violation will however lead to termination of your healthcare facilities straight away.
Yours sincerely,
XYZ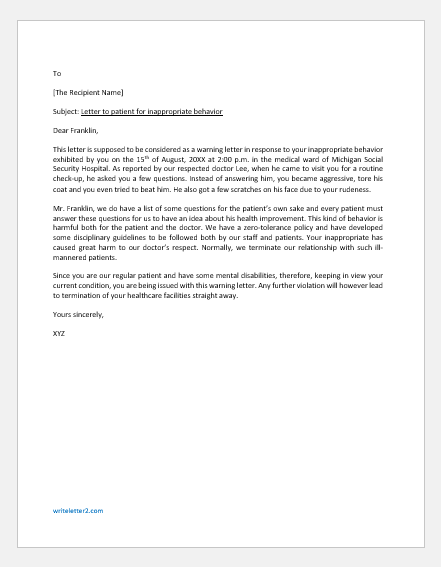 Size: 22 KB Word .doc File 2003 & later
Download