Letter of Congratulations on Restaurant's Anniversary
The congratulations letter is written with a positive tone. The letter should include some details about the restaurant and it should also reflect that how frequent you were in interaction with the restaurant. Explain in the letter that you had a good relationship with the restaurant. The tone of the letter should be personal and informal. Try not to focus on the working or the business of restaurant.
At the end add the best wishes for the good progress of the restaurant. You can write the statements in the letter congratulating the owner of the restaurant on the anniversary. If you have found anything unique and different in the restaurant, then compliment about it. Highlight all the achievements of the restaurant. The letter should have a good and a positive complimentary closing. You can also give your introduction in the letter but It should be brief. Remember that the main purpose of writing the letter is to congratulate and the letter should be stayed focused on it.
Letter of Congratulations on Restaurant's Anniversary
Dear [Recipient's Name],
We are glad to read in the local newspaper that you are going to celebrate the 20th anniversary of your restaurant. I would like to congratulate that you have made a big progress. You have contributed a lot by providing the quality services to your customers. Your restaurant is more than a super dining foundation. The overall look of the restaurant shows that it is a perfect place for gathering. We are very pleased after every interaction with you and we want to give you our warmest wishes on this very important occasion.
Sincerely,
[Your Name]
[Senders Title] -Optional-
Download Details: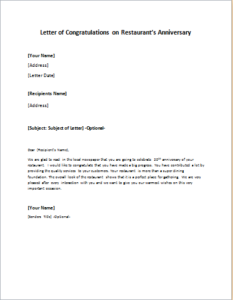 Letter of Congratulations on Restaurant's Anniversary
Size: 25 KB Word .doc File 2003 & later
Download
Size: 198 KB PDF File
Download
[personal use only: Not for Resale & Distribution]