Part Time Job Request Letter by Students
Students need financial assistance throughout their academic time span. At different places, rules are different that permit student to work under different criteria. Some students may feel difficult without working to cope with their study expenses and hence can make a formal request to the authorities for part time work. Following is given a letter that can be utilized to send your request in a formal way. This letter is for all those students who wish to write on their behalf to convey the message of doing part time job.
Part Time Job Request Letter by Students
To,
The "Authorities" / "Editor of a Newspaper" etc.
The Daily "The News", Edenberg
SUBJECT: "PART TIME JOBS FOR STUDENTS"
Dear Sir,
We are several students, whose signatures are given at the end of the letter, who wish to lay down for the urgent attention and solution simultaneously at all levels, a serious problem of lack of amounts of money. Except for some, the majority of the students come from poor families, whose earning is too meager to cope with expenses of their education, books, and boarding. Dearness is sky-high, it strikes the students with a double-edged sword because their parents not only provide for their family members back home, but they must defray the expenditures of students living in hostels.
Through the esteemed columns of your newspaper, we wish to transpire our demand to the authorities concerned both at the college level; the Home Ministry, the Civil Secretariat and the public at large to legally allow the students to do some jobs in their spare time in the evenings. Doing so the young students can earn some amount of that will go to enhance their power of spending, an avid desire to stand on their feet and a practical step towards gaining more self-confidence.
Home Ministry with the consultation of the Education Minister issues a notification on the formal basis to the Director of Education (colleges) in this respect. It will go a long way to alleviate the financial problem of students, especially who live in Hostels.
Thanks
Your Most Respectfully,
Name:                                                 Signature:
Download Details: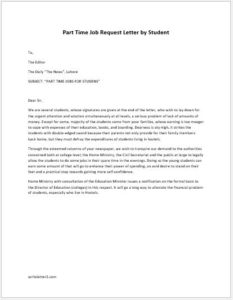 Part Time Job Request Letter by Students

Size: 34 KB Word .doc File 2003 & later
Download
Mobile Version: Polaris Office & Google Docs
Size: 25 KB File
Download
[personal use only: Not for Resale & Distribution]