Letter to Employer for Pay Review
Despite performing your best, sometimes you will not be given a pay increment by your employer, but you will have to ask for it yourself. A smart employee knows it's worth and reckons he/she has been a dedicated worker who've always prioritized company's best interests wanting it to grow. He also realizes that it's been long, and he wants an upgrade now, but the boss is not talking about it.
This is a perfect time you, as a loyal and old employee, can request for a salary review to your employer. However, asking for a pay review is like gambling. You may either win it or lose it, there is nothing in between both.
Before you plunge in to speak for your right, there are a few things you must know.
Make sure you have a solid portfolio to showcase as proof that you have been working hard.
How the company grew up because of your efforts or if you increased the number of clients will also be evident enough to tell your boss.
You have a good reputation in the organization as a team player and known for your good manners.
While you write the letter, do not let your emotions or personal biases overwhelm the tone. Make it on point displaying the best of your professional demeanor.
The writing tone should not be of begging style nor we advise you to be overconfident sounding like you know better. Keep it simple, factual, and convincing.
You should know that even if you think you have the most persuasive portfolio, it is, however, within your employer's power to reject it. So, you may prepare yourself for all kinds of reactions.
Below is a sample of a letter to the employer asking for a pay review. You may change the details as per your need.
Sample Letter
Arthur McDonald,
Director HR,
XYZ Corporations,
[Write address of your company here]
Subject: Please review my salary
Dear Arthur,
Before I begin to write the motive to draft this letter, I would like to introduce myself to you. I, Tony Grey, am a senior Project Head of XYZ Corporations since May 20XX. I work for the Sales and Marketing department and I am proud to tell you that I have been a pivotal part of the major projects of this company.
I have led a number of projects since my recruitment turning all of the clients into our regular buyers. I have been a dedicated and hardworking employee for this company with the only intention for it to grow and fly high.
Owing to my devotion and services, I believe I deserve a pay review. I request you to kindly review my current pay, which is $[X] annually, and increase so it matches my experience, hard work, and dedication for the company.
I am willing to work with you on this subject to bring out the best for both me and the company. Thank you for listening to me.
Sincerely,
Tony Grey,
Senior Project Head,
Sales and Marketing Department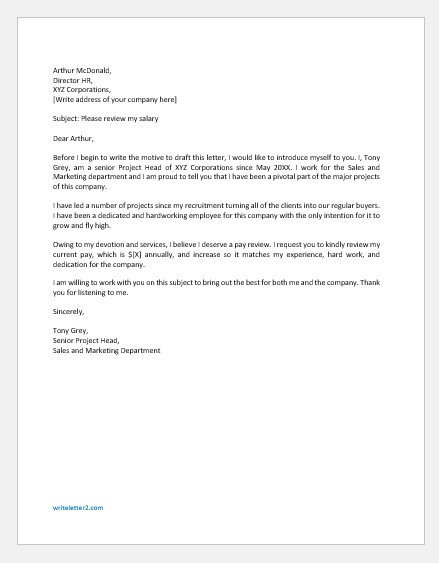 Size: 19 KB Word .doc File 2003 & later
Download
---