12 Rabi ul Awal Holiday Announcement Letter
1-
Re. Announcement of the Holiday on Holy Day of 12th Rabi ul Awal
Dear All, this letter has been drafted to announce the holiday on 12th Rabi-ul-Awal which is falling on [DATE].
12th Rabi-ul-Awal is a cardinal holy month for Muslims from all over the world. On this day, the Last Prophet, Muhammad (PBUM) was born and brought light to the darkness of the world fallen into the pits of ignorance, turbulence, and conflicts. He is the world's most famous leader who brought various reforms to the world of ignorance socially, politically, and economically.
According to Muslim scriptures, it can be concluded that He was a complete model of divinity. He introduced the world to various ideas and reforms and gave them ways of life conformed and adaptable in any age or era. He is highly esteemed by the Muslims and non-Muslims for his teachings of peace and divinity and devoted His whole life for the betterment of humanity.
To celebrate the birthday of the Reformer, we are announcing a one-day holiday from work. As this day marks the birth of the world's most acclaimed and acknowledged leader, everyone must engage themselves in prayers, charity, and supplications. As this is a religious holiday, we encourage you to celebrate and spend it in religious terms.
For further please email the manager at [EMAIL] or call the company's inquiry office at [PHONE]. Thank you.
Regards.
[NAME]
[DESIGNATION]
[COMPANY]
[DATE]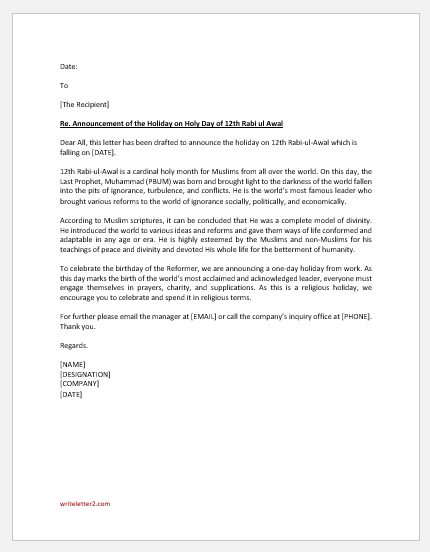 Size: 19 KB Word .doc File 2003 & later
2-
Re. ANNOUNCING HOLIDAY ON 19-10-21.
Dear All,
The letter serves as a notification. Please refer to the subject cited above. The letter announces the holiday on [DATE] which is important for the religious date of 12th Rabi-ul-Awal.
12th Rabi-ul-Awal is a red-letter day for Muslims from all over the globe as their Holy Prophet, the Last Messenger of God, Muhammad (PBUH) was born on this day. This is a public holiday for the Muslim community as they celebrate the day with great delight and feasts. The Muslim brethren celebrate the day with extreme delight by decorating their houses, streets, and roads, and making delicious dishes at home. They also distribute food, clothes, and money among destitute and poor ones.
On this day, all the office work (in-office and remote both) shall remain on hold and no official work shall be carried out. All the scheduled tasks for the day [DATE] shall be deferred and would be accommodated on other dates as informed by the General Manager. Engage yourself in worship and other religious rituals to celebrate the day at its full.
Please refer to your supervisors or HODs for any disputed schedules. In case of urgency call our office helpline with employee extension at [NUMBER]. For any query, ask away by writing at [EMAIL]. Thank you.
Regards
[NAME]
[DEISGNATION]
[COMPANY]
[DATE AND SIGN]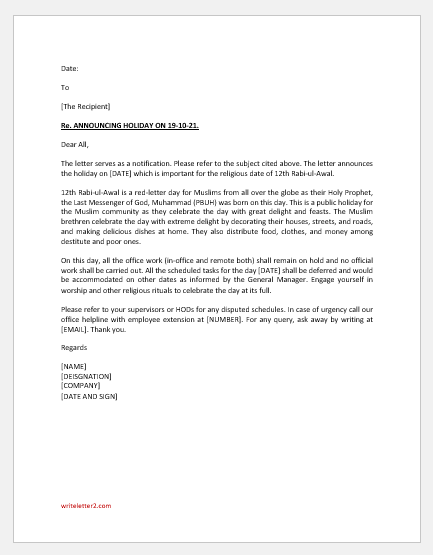 Size: 21 KB Word .doc File 2003 & later