Apology Letter for Bad Driving
Driving is a skill that is not mastered by everyone. Sometimes we can be in a rush to reach a place and in that rush, we not only ignore our security but also risk the lives of other people. In such circumstances, writing an apology can be a polite way to express your regret over the situation.
The apology letter should have a very polite tone. The reasons should be explained for bad driving. The other person should be assured that it was something that does not happen quite often. It was an uncertain situation that resulted in such driving. Taking full responsibility for the situation and providing some remedial solutions can help ease the situation further.
1-
I am writing this letter to apologize for my inattentive driving.
On [date] I was driving [car type] and you came from the other side in [car type]. I was coming back from the office and got distracted by an unexpected call. In my hurry, I did not see your car coming from the left. I am truly sorry for the trouble and damage to your car. I am willing to pay for all the repair costs.
We have all heard how dangerous it is to take a call while driving but we never realize the gravity of the situation until we face the consequences. This incident has alerted me to the dangers of using a mobile during driving and I will never repeat this mistake.
Looking forward to your forgiveness and understanding.
2-
Dear Mr. [name]
I [name] am writing this letter to apologize for my bad driving and near-miss accident on [road name] on [date].
I was in [car type] number [car number] at [time]. In fact, I had just received a call from my daughter's school informing me that she had got hurt during PE and they were rushing her to the hospital. I was so worried and upset over this that I cut you off at the intersection which was very dangerous and reckless of me. I want to apologize profusely for this very careless act as it could endanger not just you and me but others present on the road.
Please forgive me for the stress you faced. I fully realize that it was plain luck that my car did not bump into yours and I understand the consequences that would have led to. I would be more careful from now onwards and ensure my own and others' safety while driving.
3-
Dear [Name],
I had no other means of contacting you so writing an apology letter seems to be the best one so far. The other day, we both were driving near the bridge, you were in your [model-optional] red car and I was driving my very old [model-optional] white car. I was rushing to pick up my granddaughter from school. I was late, as my meeting got delayed. My little granddaughter gets panicked if she doesn't see anyone picking her up immediately after school ends.
Near the road turn, I cut you off and seconds later I realized that I had done something that could have put both of us in extreme danger. I am glad of the driving skills that you managed to slow down and maintain your balance.
Driving safely has always been my priority and so is the safety of my fellow drivers. I am a very calm and safe driver. But sometimes we all have our times to rush. Later, I was pondering over my driving skills and I will make sure to drive slowly and avoid any hazardous situation rather than driving fast and putting everyone's life at risk.
Please accept my apologies and my negligent behavior on the road.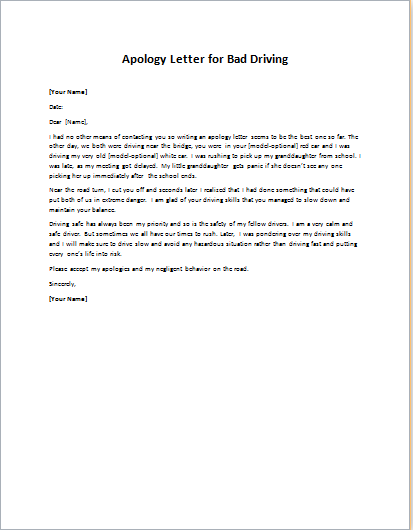 Size: 12 KB Word .doc File 2003 & later