Letter of Intent to Work from Home
Sample -1
Re. Intending and contemplating to work from home amidst pandemic situation and bad health
Dear Monica, I am Justin Paulo from the Department of Planning and Development. I am working as a Project Developer here since 2015. It is always delighting to work here for the professional environment and optimistic aura in the place.
I am drafting this letter to express my intent to work from home. Due to the spike in the Covid-19 cases and ever-growing and spreading coronavirus, everything has been halted by the strict lockdown by the federal government. There have been three Covid patients in my neighborhood and therefore the block has been sealed by the Communicative Disease Control Authority. Due to the sealing and prohibitions, it has become very difficult for me to commute to work and back.
Moreover, I have been having symptoms that are likely to be found in Covid patients. For the test report, I must wait for at least twenty hours due to the overflow of the testing in labs. The doctor has also prescribed that I should stay at home and maintain social distancing which would not be possible if I visit the office regularly.
Meanwhile, I have a fever that has made me feeble to work in the office; therefore, it is convenient for me to work from home for a few days.
Having all this as reason, I contemplate working from home while following all other working protocols. I assure you that working from home for a few days will not affect the quality of the work and my substantiality to focus. I shall remain available on my phone [X] and email [EMAIL].
I shall be grateful to you if you review my letter and respond as soon as possible so that I can manage my work and schedule accordingly. I am looking forward to your earliest response. Thank you.
Regards
Justin Paulo
Project Developer
Department of Planning and Development
YCITY Groups and Co.
E-11, F-1/8 Walton Road, Los Angeles
CA, USA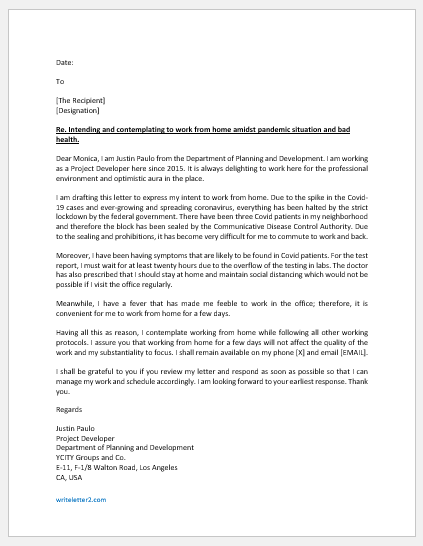 Size: 19 KB Word .doc File 2003 & later
Download
---
Sample -2
Re. Intending and Planning to Work from Home on Account of Imposition of Strict Lockdown by the City Administration Effected by the Notification no. 7098F/34
Dear Jessica,
I am Loman Grape from the Department Wing of Project Development. I have been working here as an Assistant Project Manager completing four years of my service here. I am writing to draw your attention to the recent notification issued by the city administration and local government to curb the recent spike in coronavirus cases. The situation outside the door has been grievous and serious than ever before. Millions of people have been suffering from Covid-19 and hundreds of them are dying due to the excruciating virus. The only way to control the uncontrolled situation is to impose lockdown and enforce strict implementations in the city.
To effectuate the virus, the city government issued a notification according to which all kinds of public transport have been blocked for an uncertain period. All the buses and trains shall not be moving around in the city. This can create a huge problem for the people to commute for work while dismissing the intra-city transport services (ICT).
I come from a remote country area by the ICT services. It would be highly inconvenient and toilsome for me to commute for work without public transport services. It has been clearly announced that no bus or train shall be carrying any passenger in the city. Commuting through cab service can be very expensive for me to travel on daily basis.
In the wake of all this, I aspire to work from home as I believe that I can work on project management from home as well while appearing in the office on a need basis. To ensure the best practices affected by the implemented lockdown, I urge you to approve my contemplation on working from home. I ensure you the best of my time, productivity, and work quality while working from home. I shall be available on phone calls and email.
I am looking forward to your kind response. Please let me know about this at [EMAIL]. Thank you in anticipation.
Regards
Loman Grape
Assistant Project Manager
I-Steps Private Limited
23-A, Marvel Road, San Francisco
California, USA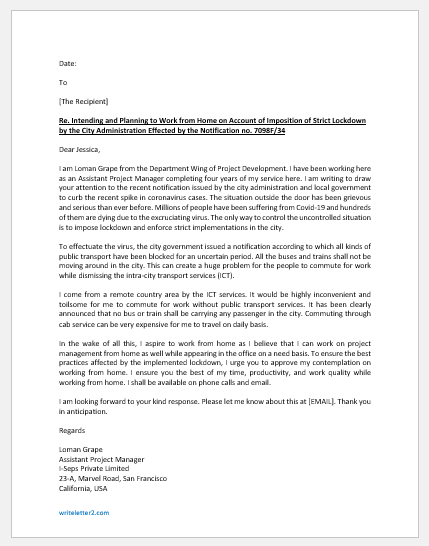 Size: 19 KB Word .doc File 2003 & later
Download