Apology Letter for Not Attending Church Meeting
Voluntary acts should be a part of our life as we owe a responsibility to our society and community. The church services are meant for everyone and church holds regular meetings to keep the events organized.
If you skip any of these meetings, a polite apology can be helpful. Briefly, explain any reasons for not attending the meeting. Also, mention that you have been actively taking part in the church activity previously and missing a meeting has not been very common for you.
State when you will be attending the meetings again and inform that you are keeping up with the meetings by being in touch with the people who are attending these meetings.
LETTER
Dear [Recipient Name],
I have always loved to be a part of the church and the activities going in and around the church ever since I was a teenager. I always encourage my friends as well to take part in the church work. I don't just do it for myself, but I truly believe that we owe some amount of service to our society and I want to play an active part in reviving the church and bringing the culture of attending the church back to life.
I missed the last two church meetings. Although, it has been the first time ever since in the last few years.  As you may know, I am approaching my final exams of the University and it's just two more weeks to go. I had a lot of revisions and extra classes to cope up with. Time has been flying and now I realized that I am not prepared for the finals.
I have promised myself to stay at home and study well for exams. As my University is about to finish and then I will be having more time for all the things that I want to do. Please accept my apology for not attending the church meetings. I have been speaking to a church friend to find out the happenings and agendas of the meetings.
I am just waiting for my exams to finish and then you will see me again taking an active part in the church meeting.
Sincerely,
[Your Name]
Download Details: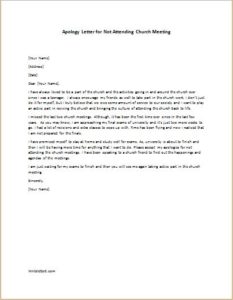 Apology Letter for Not Attending Church Meeting

Size: 41 KB Word .doc File 2003 & later
Download
Size: 122 KB PDF File
Download
[personal use only: Not for Resale & Distribution]