Work Completion Certificate Request Letter
1-
Subject: Work completion certificate request

Dear Sir,
I am feeling immense pleasure while informing you that the work you assigned to me has been completed within the specified time frame. No doubt, this is purely a result of sincere efforts I put in order to complete this work successfully. The contract for this work was signed on [date] and it took me 11 months to complete this work which means that I have been able to accomplish it one month before the deadline and I am considering it as a big achievement.
It was a complex sort of work including renovation of old buildings, reconstruction of dangerous buildings, incorporation of underground sewerage system so as to meet the demand of modern days, and a lot of other infrastructure works. Now, the work is ready and you or any of your representatives can inspect it whenever you want. Receipts and other bills are also being attached to this letter.
Further, I want to remind you through this letter that you promised me to award a certificate of excellence upon the successful completion of the work. Since the work is completed and I have been able to complete it a month before the deadline, therefore, I am entitled to ask you for issuance of that certificate. You are requested to issue it as soon as possible and it will be a great honor for me to get a certificate from a worthy company like yours.
With this request, I would like to thank you for allotting me such worthy work by means of which I have been able to recognize myself as a reputable contractor in the market. I wish to work with you again in the future.
Thanking you in anticipation.
Yours truly,
[XYZ]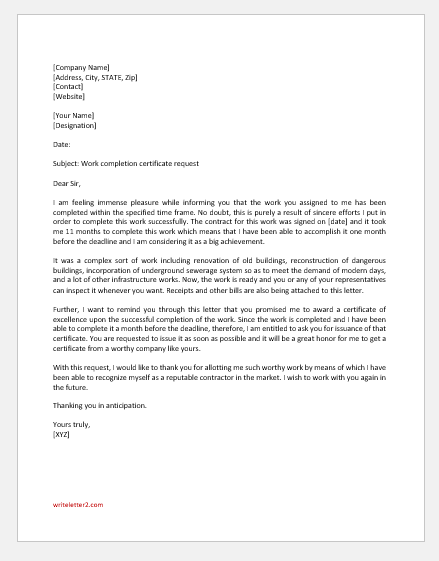 Size: 19 KB Word .doc File 2003 & later
Download
---
2-
Subject: Work completion certificate request
Dear Sir,
I am writing you this letter to forward my formal request to issue me the work completion certificate as was promised by you on the very first day when I started working on the assigned task. When I joined your company as a relationship manager, I was directed to work on the identification of potential clients around and to deposit a sum of 5 million US dollars through them. Most of those clients not only deposited the big amounts but also got themselves insured with our company's insurance department which was really a big achievement. As a result of my effective communication and sincere efforts, I was able to complete the said work before the specified deadline and brought into the company a sum of 8 million US dollars.
I want to remind you that now the time has come to fulfill your promise as I have completed the assigned work successfully. I, therefore, request you again to issue me the work completion certificate as soon as possible. It will be a great virtue from your side if you add two or three lines about my achievement so as to make the certificate more powerful.
With this hope that my request will be entertained very soon, I am saying thank you in anticipation.
Yours sincerely,
[XYZ]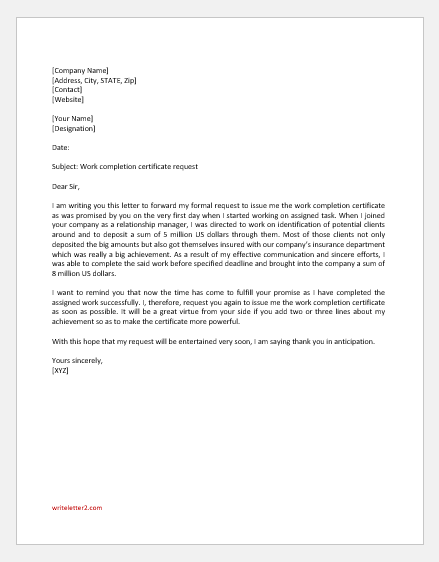 Size: 19 KB Word .doc File 2003 & later
Download