Warning Letter for not Paying Rent on Time
In the rental contract, a landlord has higher authorities. He can terminate the lease any time. The contract is followed by strict rules and policies which the tenant has to follow. In the case of any serious loss by the tenant, the landlord can take all the necessary action defined in the contract.
The rent is always expected on time. The tenant should be careful about it. Despite this, sometimes tenant is in a hard situation for not paying the rent. But, sometimes the tenants are so carefree delaying the rent without any reason.
If any crucial issue arises, the tenant should inform on time. Otherwise, warning letters are being sent from the landlords. And in serious cases, the issues lead to courts. But, it is better than both should supportive. Landlords can be lenient if tenants cooperate with them. Expulsion process is considered if the tenant does not give any proper response.
Letter
Charles Thompson
Landlord, Techno Proprietors
56 St. Diamond Avenue, New York
January 15th, 2018
Mr. Clark Wordsworth
Elite Apartments
Block 32D, Crystal Avenue, New York
Dear [Recipients Name],
It is to notify you that your rent was due on 5th January 2018 and today it is 15th.
I was not expecting this kind of response. You should have informed about being late for the reason. I kept on waiting for 10 days but did not get any response. It is a severe issue. Your critical attention is required. On failure of response, expulsion proceeding can start. Once they will start, I will not be able to give any leniency.
I would prefer in time settlement with any eviction proceedings. But, you should respond promptly. As per the rental agreement, you are aware of all policies and rules. I am trying to be as friendly as I can. But, if you will not respond in the same way, I would be unable to give you any relief or leniency. I humbly request to pay rent immediately. I would acknowledge that future rental payments should be on time.
Sincerely,
Charles Thompson
Landlord, Techno Proprietors
Download Details: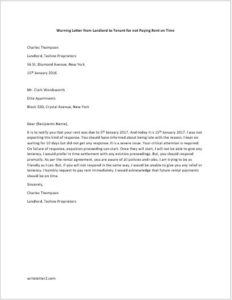 Warning Letter from Landlord to Tenant for not Paying Rent on Time
Size: 25 KB Word .doc File 2003 & later
Download
Size: 189 KB PDF File
Download
[personal use only: Not for Resale & Distribution]