Event Cancellation Email to Hotel Management
Sample Letter -1
Subject: Event cancellation email to hotel management
Dear Johnson,
First of all let me submit my apology to you for canceling the birthday party event of my beloved son which was scheduled to be held on 20th of August, 20XX at your hotel. I am in the best knowledge of the fact that cancellation of the event at this time is extremely stressful for you and it looks equally shameful at my side.
I am well aware of your terms and conditions about your policy about the cancellation of any event which is not allowed on such short notice. Honestly speaking, I had never anticipated such a situation. All this happened due to some unavoidable circumstances and those were related to my family problems. It led to a worsening of the situation and consequently, I had to cancel this event on very short notice. Alternatively, I have planned this event in the next month for which I will inform you well before time. I again apologize for my action because the inconvenience you have faced cannot be measured.
Since I have requested you to cancel the event and as per your refund policy, mentioned on your hotel voucher, a 70% refund is admissible if the cancellation of an event is requested before seven days. In my case, only three days are left and therefore, I request you to refund me 50% of that amount which I deposited in your account at the time of booking in lieu of advance payment. You can consider my request for this refund because I am not canceling this event rather shifting it to the next month. For this purpose, I will also send you an email.
I request you to understand my situation which led to the cancellation of this event and grant me a 50% refund of my deposited amount. Thanking you in anticipation.
Yours truly,
[XYZ]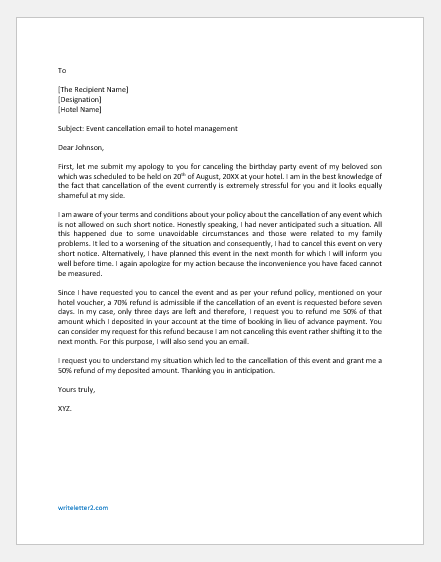 Size: 21 KB Word .doc File 2003 & later
Download
---
Sample -2
Subject: Event cancellation email to hotel management
Dear manager,
I am sorry to inform you that our get together party along with the inauguration ceremony of our fundraising organization, which was scheduled to be held in your hotel on [date] has been canceled due to circumstances.
As a matter of the fact, I had never anticipated and planned about the cancellation of the event but yesterday, I came to know by my secretary that our chief guest, Mr. Jack, who was supposed to inaugurate the ceremony, has undergone sudden heart surgery as confirmed by his wife. In these circumstances it has not been possible for him to come and join the event while there are only three days left in the event. I know this has caused great inconvenience for you but I tried my best to inform you about the cancellation as soon as possible.
For the sake of compensation, we have planned the above-mentioned event after three weeks. You will be informed about the booking of the event well before time.
Moreover, as per your policies, any customer who cancels the event and informs at least three days in advance is entitled to get 50 percent of the deposited amount in lieu of advance payment. I fall under the same category because I informed you three days in advance about the cancellation. So, I request you to refund the 50 percent amount of my advance payment. I again apology any inconvenience you have faced owing to the situation.
Yours truly,
[XYZ]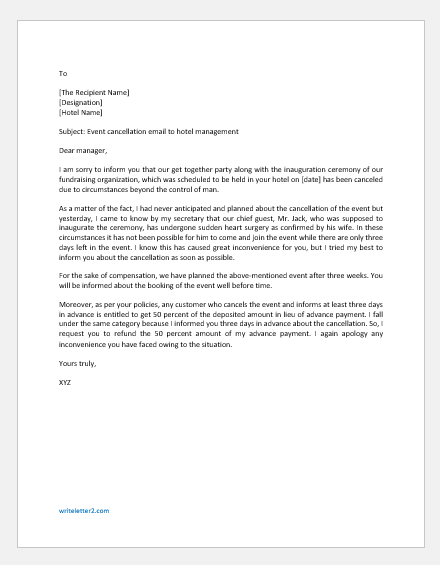 Size: 23 KB Word .doc File 2003 & later
Download