Complaint Letter for Rude Behaviour of Coworker
1-
Good day. I am writing to report the behavior of a fellow co-worker, Mr. Andrew Stiles. Mr. Stiles has been creating a lot of problems for me and the other colleagues at our department and creates a scene almost every day at the office. He gets into a verbal altercation with us over little things which can be easily resolved with a polite dialogue. His behavior has affected the work environment a lot and made it difficult for us to concentrate on work because of his rude attitude.
We had been tolerating his behavior for a while but now have been left with no choice but to report him to HR. Matters got really heated up at the office yesterday due to an incident that happened which involved Mr. Stiles talking rudely to one of our clients during a meeting.
There was a misunderstanding on the client's behalf which we were trying to resolve, but Mr. Stiles started yelling at the client and spoke to him very rudely.
This resulted in the client yelling back at him and the business deal we had with the client's company was also terminated on the spot by the client himself. We feel terrible that we had to lose a client this way and our company's reputation was also tarnished.
We request you to please take action against Mr. Stiles and issue him a warning. We would appreciate your cooperation in this matter.
Yours sincerely
Ms. Taylor Francis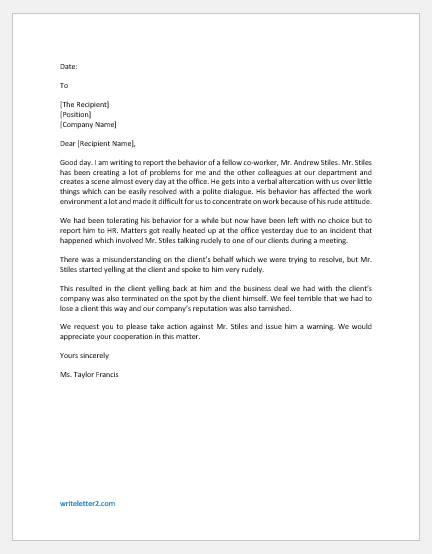 Size: 26 KB Word .doc File 2003 & later
2-
Dear Mr. Peter John,
I am writing this letter to regretfully inform you about the rude behavior and unprofessional attitude of Ms. Anna White. Ms. Anna was assigned the task to write the report for the completion of our previous project which she failed to do on time. When I confronted her, she got into a rude altercation with me and put all the blame on me for giving her more work than she can manage.
I reminded her that it was her job to write the report as communicated earlier too but she refused to take responsibility for any of it. Moreover, she informed me yesterday that she does not wish to write the report and I should assign someone for it now.
I have been left with no choice but to do her work myself which has increased my workload. She also took comes late to work almost every day and when inquired about it, responds rudely that it is none of our business.
Her rude attitude has resulted in a lot of problems, and it affects the work environment. She also demotivates her fellow co-workers and discourages them from working hard at the office. On behalf of the fellow employees, I request you to please issue a warning to Ms. Anna or to move her to a different department.
If you want more details or wish to confirm this with the rest of the employees, we can arrange a meeting when convenient for you. Thank you for your cooperation.
Regards,
Mr. Mark Jordan.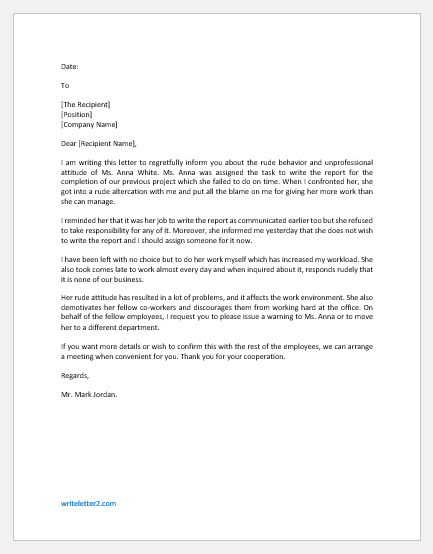 Size: 26 KB Word .doc File 2003 & later