Letter to Cancel Rental Contract due to Increase in Rent
A rental contract is followed by a set of various rules. The application needs to be filled properly. Security deposit is also taken to redeem any loss or damaged caused by the tenant. When a house or office is granted tenant, utilities become their responsibilities. This includes water, gas and electric bills. After mutual consent, the agreement is signed. The owner has the right to enter anytime on short notice. The tenant has to pay the rent monthly. The security deposit is retained at the end of the contract if no serious loss or damage occurred within the time period. Sometimes landlords also critically check the employment background and history of the tenant for good credibility. On the other hand, tenants have the right to check the house or office they are going to take. The various equipment, electricity system etc can be checked. On the other hand, both ends should try to ease each other as much as possible for good accountability.
Letter to Cancel Rental Contract due to Increase in Rent
Moon Apartments
Charles David
18 St. Pearl Avenue, Michigan
1st January 2016
Mr. Paul Smith
Proprietor
Renton Estates and Proprietors
24 St, Fleet Enclave, Michigan
Dear [Recipients Name],
Hope you are good. I am writing to cancel the rental contract due to increase in rent. I am going through some critical issues due to which I wouldn't be able to pay the increased rent. Two of my sons have just started their university. I bought a car for them on installments. I am over-crowded with payments for more than 7 months. You were being a very cooperative landlord and I respect you always. But unfortunately, I cannot continue here. I hope you understand my situation. Please return my security deposit after checking the house properly. I am supposed to take this step for the better future of my kids regarding their education. At the end of the month, our budget is too low. So we are trying to find an apartment with less rent. I am seeking for your kind response.
Best Regards
Sincerely,
Charles David.
Tenant, Moon Apartments
Download Details: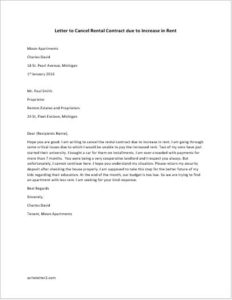 Letter to Cancel Rental Contract due to Increase in Rent
Size: 24 KB Word .doc File 2003 & later
Download
Size: 323 KB PDF File
Download
[personal use only: Not for Resale & Distribution]