Letter to Staff Informing to Maintain Cleanliness
A letter to maintain cleanliness in the work environment is written by a supervisor or another employee working at a higher post. It is addressed to the staff members of the company, who have been ignoring the basic cleanliness habits which need to be obtained in the workplace. The letter will justify the occurrence of the act and provide guidance as well as possible instructions to be followed.
We know that an office is cleaned on a regular basis, but some responsibility falls on the staff members working in the organization. Every employee is supposed to work in a tidy and organized environment, with no trash and dust in their workspace. Thus, these letters can be the best way to communicate and address the employees, so they can stick to their professional cleanliness habits.
Letter -1:
Dear Employees,
I hope you all are doing great and working in the best possible way to keep this company flourishing. We have many new projects in the coming month, and we believe that working together can serve our clients best. It all requires a little hard work and some professional codes to follow.
Since you all know that the management staff has been checking over the office on a regular basis now. Upon their visit, they have found several unclean working desks and furniture. The staff was working in the same untidy environment without paying heed to their cleanliness ethics.
Therefore, it is requested for you all to maintain a cleaned and healthy environment in your workspace. The employees in this company [Company's name] spend most of their time working here. Although the office is cleaned on a regular basis, it can still leave the cubical and workstations unclean and dirty. I believe that with minimal efforts from every employee, we can make this place organized and upright.
Let's keep this place healthy to work!
Sincerely.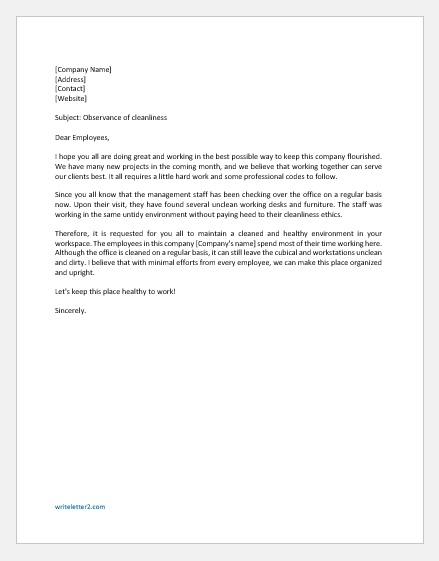 Size: 19 KB Word .doc File 2003 & later
Letter 2:
Dear Staff Members,
With due respect, it is stated that we have found several employees working with unclean desks and workstations. This behavior of the staff is being noticed for the past few days and thus the employees are paying no attention to their work environment and cleanliness habits.
Working in a healthy and tidy atmosphere not only depicts the professional ethics of the worker but also the societal background he belongs to. And failing to work in an organized environment is a reflection of your professional codes. In the past few days, we have been observing unclean desks and computers. Garbage and rolled-up papers are not thrown in the trash cans and employees are observing their lunch in front of the working desks.
You should know that strict actions can be taken if the staff members will fail to stick to company rules. Individual warning letters may be substituted if his/her workstation is untidy. We just require some minimal effort from each employee so the workplace can be neat and healthy to work with.
Thank you for your consideration. We hope to see a positive response from every staff member.
Yours Sincerely.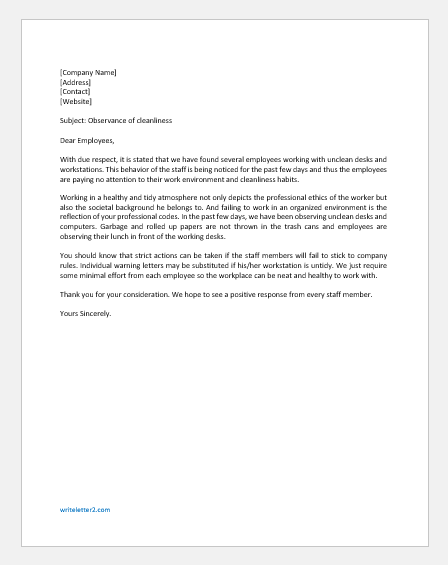 Size: 16 KB Word .doc File 2003 & later