Apology Letter for Cancelling Nanny Services
Canceling a service can be very hard as we might not want to make the person feel hurt. So, the apology has to be very polite by explaining the reason to cancel the service. It will help the person understand the reasons easily.
Mention the date from which you plan to cancel the contract of services. Be grateful for the services and appreciate the efforts and interest invested by the person.
Recommend the service provider to some other people as a remedy so that they do not feel at loss. End the letter with a positive note that you will resume the services if needed in future.
Apology Letter for Cancelling Nanny Services
[Your Name]
[Address]
[Date]
Dear [Recipient Name],
You have been a wonderful nanny and you have been with us since I had my first child. I was so delighted to see you with the kind of interest you would take to look after the kids. It was your love and support that helped me has two more kids without even feeling the need of any other persons help. You had been one of the most amazing teachers my kids had as you taught them and fed them with love. You have been grooming and bringing them up in the best way you can.
The kids are very fond of you ever since and they love spending the time you. Each one is attached to you in their own way and you have established a unique relationship with each one of them. It really takes a lot to look after someone's child and bring them up as your own.
If it was not for your support, it would have been very hard for me and my husband to work and build upon our careers. We will always be very appreciative towards your selfless efforts. It is hard for me to say that we no longer require your services as we are moving to some other city.
I would like to thank you from the bottom of my heart. It will be very hard for me and the kids to manage without you. One of my friends has been looking for a trustworthy nanny like yourself and I have recommended you. You will always be missed.
Sincerely,
[Your Name]
Download Details: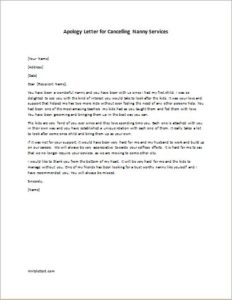 Apology Letter for Cancelling Nanny Services

Size: 38 KB Word .doc File 2003 & later
Download
Size: 121 KB PDF File
Download
[personal use only: Not for Resale & Distribution]