Warning Letter to Employees for Leaking Salary Details
Sample Letter -1
Subject: Warning letter to employees for leaking salary details

Dear Henry,
Through one of our reliable sources, disturbing news has been brought to our attention about you. Accordingly, you have been found to leak confidential information of the company to Mr. James, who is an employee of XYZ company, and this is of such nature that it can work against the wellbeing of the company.
As reported by our resource, you have been alleged to provide the following information to a third party;
Leaking your salary information to employees of XYZ Company.
Business strategies and plans for XYZ projects.
We were not expecting such kind of irresponsible behavior from you at least. You know this thing very well that Mr. James works in the XYZ Company which is producing the same entities as us. Looking from this angle, they are our competitors in one way because their industry is the same as us.
Since the day first you joined us, you were entered into a contract with us according to which you must abide by all laws and policies of the company and bound not to disclose secrete information of the company which may work against its interests. Disclosure of information regarding the company is a clear violation of the company's nondisclosure act and under clause no. 18 of this act, such matters will be dealt with strictly as per the existing laws of the company.
A meeting regarding this matter was held in presence of your manager and other officials of the company on 15th of August, 20XX in which it was decided that a warning letter was to be issued to you and it was also decided that any further violation of such kind may prove disastrous, leading to suspension, demotion or even termination from the job. So we hope you will improve yourself and keep all the company's information as secrete.
Yours sincerely,
[XYZ]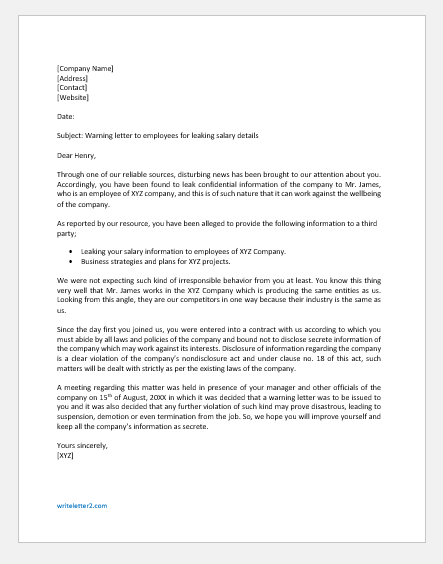 Size: 23 KB Word .doc File 2003 & later
Download
---
Sample Letter -2
Subject: Warning letter to employees for leaking salary details
Dear Johnson,
We were informed by one of your colleagues that you are involved in leaking your salary details to the employees of XYZ Company. It is not the first time you showed this kind of carelessness. You have also been warned by your supervisor but you did not take it seriously, as reported by him.
Mr. Johnson, you are a worthy employee of the company and we value you because of your work but disclosure or leaking of such secrete information regarding the company will not be tolerated in any situation. When you signed the contract with us, you were instructed to keep all the company's information secrete including your salary details but it seems that you have failed to do so. By showing such carelessness, you have made yourself liable for disciplinary action for not keeping your salary details secrete.
Keeping in view your previous performance, Instead of initiating a serious disciplinary action, we are issuing you with this warning letter only. We hope you will surely refrain from such an attitude in the future. Further breaching of the company's nondisclosure act will lead to severe disciplinary action. We await a positive change in you.
Yours sincerely,
[XYZ]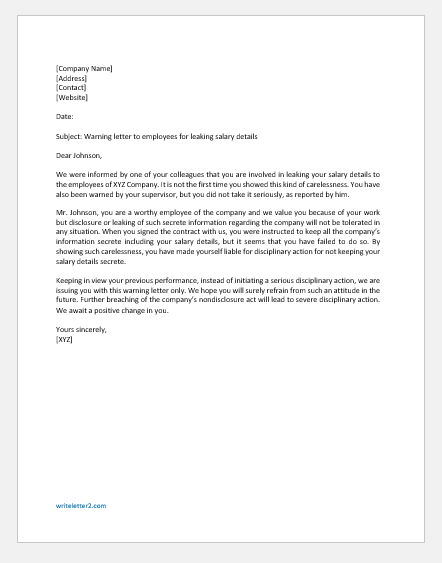 Size: 21 KB Word .doc File 2003 & later
Download