Request Letter for Purchase of Lab Equipment
1-
Subject: Requesting purchase of [NAME]
Dear Sir, I am Andrew Hudson, Lab. Technologist in Material Testing Laboratory, Michigan. Through this letter, I want to send you my formal request for purchasing laboratory equipment, flame photometer.
Being the owner of this lab, you must know that this instrument is an integral part of every scientific and material testing lab and analysis of various chemicals depends solely on the report obtained by this instrument. Since we are involved in the fractional analysis of various chemical samples, therefore, it has become essential for us to purchase this equipment as soon as possible.
For the last couple of months, we have been receiving the samples in bulk from various organizations that want to get their samples to be tested by us. Laboratory attendant has to travel to a distant laboratory to get these samples tested, in this way, many samples were found to be wasted on various occasions.
It is, therefore, would be better for us to purchase our own equipment to eliminate any chance of sample wastage and time will also be saved because representatives of various organizations demand their reports on time. They do not want any late from our side.
Keeping all circumstances in mind, it is therefore becoming indispensable to purchase a new flame photometer on a priority basis and as soon as possible. I hope you will give due consideration to my request and take practical steps in this regard. Thanking you in anticipation.
Yours sincerely,
XYZ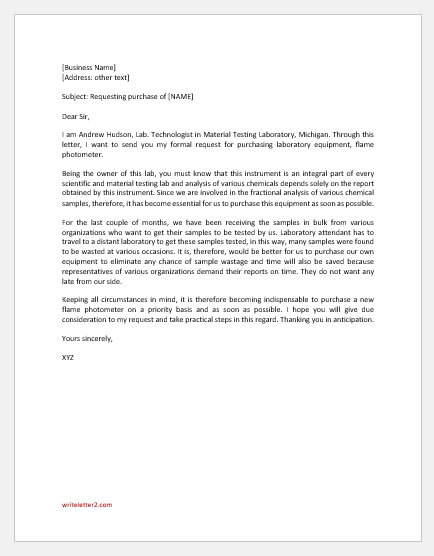 Size: 20 KB Word .doc File 2003 & later
Download
---
2-
Subject: Formal request of purchase of [YXZ]
Dear Sir,
This is Arjun, laboratory technician of city diagnostic lab, Michigan. I am feeling pleasure to inform you that by means of efficient media usage, we have been successful so far to draw the attention of people towards our lab. That is why patients are consulting our laboratory to get their blood tested for various diseases as prescribed by the doctor.
But here, I want to draw your attention towards an important matter which is to be addressed on a priority basis and the matter is to purchase the new laboratory equipment.
You know that blood is to be centrifuged prior to testing and we have only one centrifuge machine in our laboratory. Since we are receiving the blood samples from the public on daily basis. Not only the public but three famous hospitals also refer their patients to us. In this way, we receive 300–400 blood samples on daily basis.
My dear, this is a huge amount, and the presence of one machine is not enough to meet the demands of the lab. Sometimes, laboratory staff has to work extra hours because the handling of samples in bulk is another issue that arises apart from centrifugation, and samples received on a particular day are to be handled and centrifuged on the same day.
Therefore, the purchase of a new centrifuge machine is the only way to cope with the work pressure and I am requesting you to resolve this matter as soon as possible.  
I hope you will give attention to my request and take some practical steps to resolve this issue as soon as possible to avoid any inconvenience because patients get embarrassed if they won't get their report on the date promised.
If you have any queries, you can contact me on my cell number or you may personally visit the lab to see the whole situation that I described in the early part of this letter. Waiting for your positive response in this regard.
Yours sincerely,
XYZ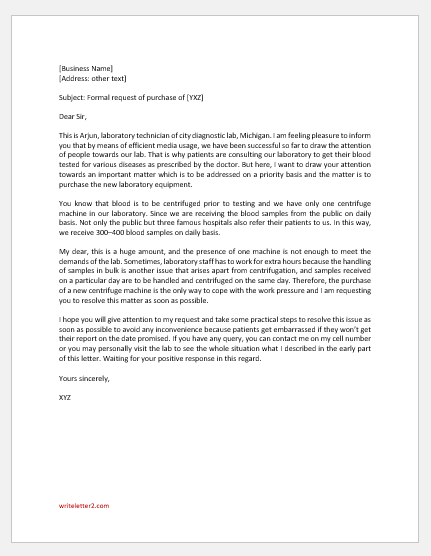 Size: 21 KB Word .doc File 2003 & later
Download