Authorization Letter to Represent on Behalf of Company
What is an authorization letter?
A letter of authorization is a document that legally allows a person to act on your behalf. An authorization letter should contain all necessary information precisely. Giving authority to someone in a business matter is a tough decision. You are directly responsible for the activities that take place on your behalf, so make sure to authorize the right person.
How to draft an authorization letter?
There are two types of letters of authorization:
First, when you know the person, you are authorizing, and second when you do not know the person but allow him/her to perform the task on your behalf. 
When you start writing a letter, it is significant to frame the structure perfectly. With an inappropriate structure, your message will not be conveyed in the right manner.
Uses of authorization letter:
This letter can be used in multiple scenarios. For instance, when you are out of town and want someone to chair the meeting in your absence. When you cannot pick up your documents yourself or want to represent your company in some other organization on your behalf. This letter is also used for the purpose of bank authorization, to collect bank statements, and to submit your documents. It can also be used to collect Passports, National Identity Cards, Credit cards, Debit Cards, Payment Checks, Attested Degrees, and much more. In short, it is a multipurpose letter.
TIPS to write an authorization letter
Here are a few points that can help you write an authorization letter for different scenarios:
Follow proper structure and format
Following the format and structure is pretty important because the letter is quite short in terms of length. Only a proper structure can give it a professional outlook.
The unusual salutation
In general, in writing a letter of authorization the normal salutations are not appreciated. "To whom it may concern" is a good way to go! Or else you may use "To Whomsoever, it may concern"
Name of the authorized person
Do not forget to mention the name of the person you are authorizing. Also, mention the reason for authorizing him.
Leave your contact
In case the recipient wants to contact you, do not hesitate to give your contact detail with a bunch of gratitude. It will leave an impression of goodwill.
Tone of the letter
An authorization letter is used in a formal setting so, you should avoid a friendly or casual manner. A formal and crisp tone is suitable for such a letter. The tone should be authoritative rather than being passive and submissive.
Print your letter
This letter serves to be an official letter that can be documented for proof too. Please do not give this letter in handwritten form. A neatly typed letter, printed particularly on the letterhead of your company is recommended.
Do not let it go too personal
The letter is already short so, do not drag it with an explanation of your absence. Only state the reason for it. Stick to the point and convey your message firmly.
Sample Letter
1st June 20XX
From:
Address:
To:
Address:
Subject: Authorization to Represent on Behalf of Company [X]
To whom it may concern,
It is to certify that Mr. XYZ is a competent employee of my company. I am writing this letter to authorize Mr. XYZ to represent on behalf of my company today (1st June 20XX) as I am engaged in a personal commitment. He is a diligent and brilliant employee and can carry forward the task vigilantly. Thank you for your understanding.
I appreciate the cooperation of both of you.
Regards,
Name of the Sender
Designation 
Signatures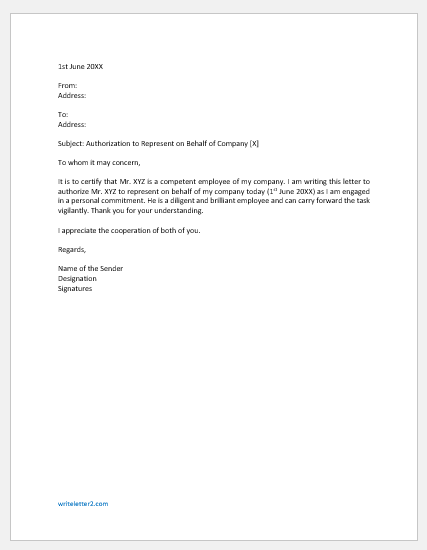 Size: 17 KB Word .doc File 2003 & later
Download