Complaint Letter against Defective Product
There is no perfection in the world. As it is a popular saying "to err is human to forgive is divine." As human beings can do mistakes and after realizing they fix them. In the same way machinery and products can be defective or faulty. But there are trillions of ways to fix the products and machinery in this advanced technology era.
Nowadays, there is a great facility for online shopping and products delivered at home. But the main flaw concerning the delivery of products is that products are more likely to be defective. Sometimes the policies of online delivery are too difficult to follow. This decreases the sustainability and name fame of online products.
As, in the busy schedule of life, people try to have as much ease as they especially when it comes to shopping. But it does not mean that it happens always. Some companies and stores provide too much ease of exchange of defective products. Thus, people can easily exchange and replace them. The ease of exchange and replacement creates trust and the name of the company. When someone finds a defective product, they can write a complaint letter for replacement and review. In time complaints are responded to much more promptly as compared to late complaints.
Letter -1
I [name] placed an order for a set of serving dishes from your website [order number] on the previous Sunday and my order arrived on Thursday [date]. However, when I opened the package I was shocked to see that the dishes were chipped and the design was faded. Their quality was much poorer than that shown in the pictures on the website.
I was extremely disappointed as I have been a loyal customer of yours since [name of the year] and I have ordered from you many times. I did not expect this kind of service from you. I have always found your products to be of excellent quality and your customer service, very efficient.
I am writing this letter in expectation of the same positive and proactive response. I am attaching the proof in the form of photographs. Also, I can ship these back to you if you send me a returning address. You can either refund the amount I paid or replace these with the actual product shown on the website.
In case of refund, my bank details are as under:
[account title]
[account number]
[bank name]
In case of any further queries, feel free to contact me at [email address] or [phone number].
Looking forward to your swift response.
2-
I am a frequent customer of yours and I am a big fan of your fabric quality and design aesthetics. However, I am writing to register my complaint regarding my latest purchase. I ordered a winter wool three-piece suit from your website on [date]. My order number was [order number] and I received it today i.e. [date].
However, on opening the package I was extremely disappointed as the quality of the fabric is not what was shown on the website or what I would expect from a big brand like yours. It was very flimsy and discolored. On opening the shawl I saw at least three small holes in the fabric.
I am extremely disappointed as yours has been my go-to brand for winter clothing and I have always recommended you to friends and family. I want a refund as this fabric is not fit to be worn in winter and a replacement, even if it does not have holes or discoloration, would not be any better in this regard.
I am surprised because I have bought your brand's wool suits earlier too and they were always very warm and durable. The colors have always been very reliable and the fabric soft to touch but long-lasting. If you have changed them permanently I would advise you against it as they were very popular and in demand.
For now, please refund the full amount to [account number]. I am attaching the receipt and the photographs of the fabric I received. Please send me a returning address where I can send the fabric back.
Looking forward to swift action from your side.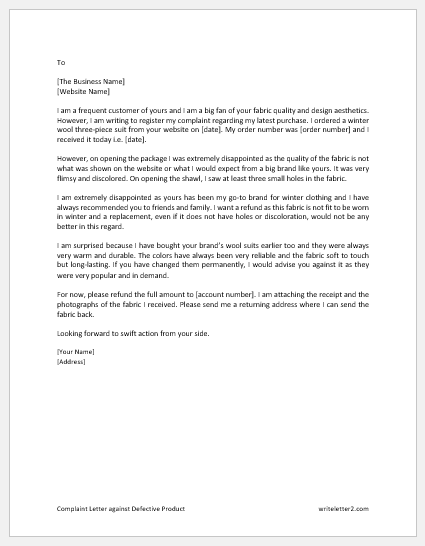 Size: 23 KB Word [.doc] File
Letter -3
Dear [Recipients Name],
I am writing to complain about the defective product I have received today from your online store. I had heard good reviews about your store many times. So, I have ordered twenty table lamps from your store for my saloon. But unfortunately, only five table lamps are functional. The rest fifteen table lamps are defective and among these fifteen, three are broken. It is totally unacceptable. I have a three-day check warranty receipt enclosed with the letter.
Kindly, replace and re-send the defective lamps. I need in time replacement. The cost of these lamps is much high, so the loss is unbearable. As I have only two days left in the opening ceremony of my saloon. Your quick response will be highly appreciated. Thank you for the time.
[Your Name]