Permission Request Letter to Organise an Event at University
I am [X] writing to request to you organize an event named [X] at [X]. We are a group of [X] students in the 2nd semester from the [X] department. Our event is about project [X]. Our group has decided to make the project as unique as possible while also seeking to upgrade the quality of professionalism in the field of media sciences. We'd also like to set an example of out-of-the-box thinking. For that, we've lined out a project the details of which are given below.
Event Name: Revival Ramp Event
Introduction & Objectives:
Our main objective behind organizing the event "Revival Ramp" is to organize a fashion show that will highlight the traditional dresses of [PLACE NAME], the use and promotion both of which have faded away somewhere in the fast blows of the promotions of other sorts of casual wear. Our focus is not merely dressed. We'll also include footwear, headwear, jewelry, and other cultural accessories.
In case we successfully organize such a show, we'd be able to promote our traditional and cultural dresses/accessories of ours in a versatile manner that will eventually help revive the shades of cultural belongingness back and will also help promote our traditions.
Award Ceremony
To make the event interesting, engaging, and enticing, we'd also like to add an award ceremony to our prospective event. Doing a lot and not getting recognized for the efforts is a real-time pain that hundreds of people belonging to different fields are feeling around us.
Having our affiliation with the Media Sciences group, we'd like to light some candles of participation to compensate those who've given their blood and sweat to the field of media and yet dwindled unrecognized.
In the award ceremony titled "The Unseen Heroes", we'd like to pay tribute to the people of the media whose efforts have been massive yet recognized least. For that, we'll present them with Awards of appreciation from the University of Arizona and from the Media Sciences Department. They say, "The deepest principle in human nature is craving to be appreciated", we want to appreciate those who deserve it.
This effort, little though it may seem will not only introduce some unseen and unsung heroes to the world but will also change the trend of frivolity towards recognizing and celebrating the silent legends.
Tribute
At the closing ceremony, we've planned to pay homage to the [SINGER/DESIGNER/other] with a few songs to which a singer will be invited.
To organize this event, we require your permission. The motives, as well as the details of the event, have been mentioned above. We are now looking forward to the approval of this application so that we may head toward the proper organization.
Sincerely,
Students, Media Sciences Department
6th semester.
Download Details: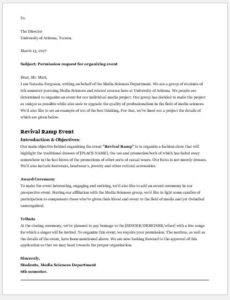 Sample Letter
Size: 31 Kb