Recommendation Letter for a Colleague
A letter of recommendation is what is also called a reference letter. Recommendation letters are written in order to assist people to get good jobs, to get selected for training programs, to join workshops etc. Sometimes, recommendation letters are also written for procedures like adoption etc. There is no set format for a recommendation letter, however, the writer or the person who is recommending should write this letter in a convincing tone. A mention of the referred person's character and achievements should be made and the reader should be told how the referred person could prove beneficial for them. It should, however, not be overlooked that in reference or recommendation letters you are responsible for what you write. Writing letters for people who do not deserve a referral or recommendation is nothing but snatching right of a deserving candidate.
Recommendation Letter for a Colleague
To Whom It May Concern
My name is [enter name] and I am working at [enter organization] as [enter title]. I am writing this letter to you in order to recommend Mr. [enter name] for the vacancy of [enter detail] at your company. I have been working with him since [enter period] and during that time I found him a very hardworking and capable employee who is always ready to accept challenges. He was one of the few employees at our workplace whose every project went successfully. Since he is leaving this city and will be shifting his household to [enter city], he is looking for an employment at your office. Kindly consider this recommendation in his favor. I am sure he will not disappoint you.
For further details, you can contact me at [123-4567-8901].  Thank you!
Sincerely,
[Your Name]
[Senders Title] -Optional-
Download Details: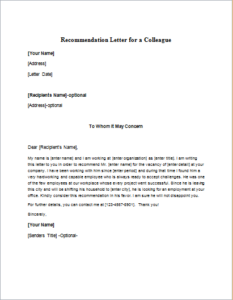 Recommendation Letter for a Colleague
Size: 25 KB Word .doc File 2003 & later
Download
Size: 178 KB PDF File
Download
[personal use only: Not for Resale & Distribution]