Complaint Letter for Power Outage
Discovery of electrons made marvelous changes in life and improved the complete life of the human. It is being used in every walk of life and life without electricity is almost impossible. Our all home appliances, lights, businesses and even medical facilities at hospitals are adjoined with the usage of electricity. Its requirement increased in extreme weathers. For example, in warm countries, its consumption becomes high, whereas, in cold countries, its consumption is raised during winters. We are so used to of electricity that we cannot afford the power outage of fifteen minutes even. It seems that life is stopped whenever there is a power outage. It becomes the source of embarrassment also when power is out during an event or ceremony. However, it is not necessary that this shortfall is forced by the power company. There may be any disruption in connection or line transmission. In other cases, storms and rain can also cause the shortfall of power. Therefore, whenever there is regular break down, somebody should complain about it to resolve the issue.
Complaint Letter for Power Outage
Red Park Apartments
Peter Spencer
Block 34C, White Pearl Avenue, New Mexico.
18th December 2017
Mr. Max Hector
Mexico Electricity Complaint Center.
35 St. Fifth Bridge Avenue, New Mexico.
Dear [Recipients Name],
I am one of the residents of Red Park Apartments. It has been the third week that we are facing a continuous shortfall of two hours daily. It is the peak winter season and getting warm without a heater is not possible due to extreme weather condition. It is prudent to highlight that there is one medical dispensary located in our block which remains inoperative during the shortfall. Moreover, there are some medicines that do not need to freeze and continuous heat is required to keep them in liquid form. Furthermore, at the time of power break down, my kids are busy in their study and my wife is busy in cooking. This power shortfall is greatly disturbing our life. Therefore, it is requested to solve the issue on an urgent basis to relieve me, my family and forty other residents of the apartments.
Sincerely,
Peter Spencer.
Download Details: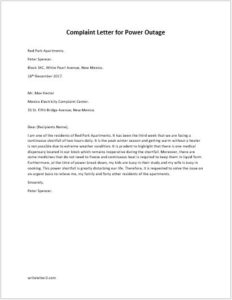 Complaint Letter for Power Outage

Size: 42 KB Word .doc File 2003 & later
Download
Mobile Version: Polaris Office & Google Docs
Size: 16 KB File
Download
[personal use only: Not for Resale & Distribution]