Personal Reference Letter for a Friend
Your reference letter for your friend could prove a great deal of help to him in order to get approval for a job, to get into a training program or to initiate a business partnership etc. While writing a reference letter, be sure that reference letter is not merely a paragraph of few lines requesting the person to consider your friend because he's your friend. That's, of course, insane since he is your friend, not his. He would want reasons to consider your friend's proposal. Letters written with this strategy will not make any positive effect rather they increase the possibilities of rejection. With your improper reference letter for your friend you can take revenge of an old grudge if you ever want to but please don't be that unkind.
Look at this sample of a reference letter for a friend.
Personal Reference Letter for a Friend
[Your Name]
[Address]
[Letter Date]
[Recipients Name]-optional
[Address]-optional
To Whom It May Concern
Dear [Recipient's Name],
My name is [enter name] and I am working at [enter organization] as [enter title]. I'm writing to you regarding Mr. [friend's name]. He's my very good friend and it's been [enter years] that we know each other. Apart from having a good character he has a competitive nature and always accepts new challenges. He is particularly good at [enter details] and has a successful background as [enter title].
With all these details, I would like you to consider this reference letter for my friend Mr. [friend's name]. I am sure you'll not regret your decision. Thank you!
Sincerely,
[Your Name]
[Senders Title] -Optional-
Download Details: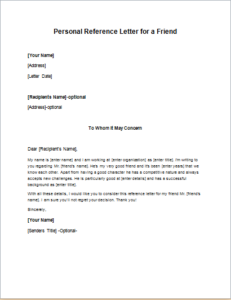 Personal Reference Letter for a Friend
Size: 25 KB Word .doc File 2003 & later
Download
Size: 169 KB PDF File
Download
[personal use only: Not for Resale & Distribution]