Warning Letter to Employee for not Wearing Uniform
A warning letter for not wearing a uniform is written by a supervisor or an employee at a higher post. It addresses another employee because he may have violated the company's rules of uniform selection and failed to wear formal attire at the workplace. The letter may highlight the occurrence of misconduct and the possible consequences which may take place if the conduct is repetitive.
Any employee can go through natural problems when he/she must wear a proper uniform, but a recursive act always calls for a warning letter to maintain discipline in the work environment. This recursive act can affect the company's environment and the set of decency in front of the customers.
Letter 1:
Dear Employee [Name],
It has come to the management's attention that you have been violating the uniform decorum of our company and failing to wear your formal attire as prescribed in the Rules and Regulations book.
We have specified the formal uniform for every employee to work here and the instructions are clear in the "Attire Notice" that we provide. We have seen enough irresponsive behavior at your end in the previous days. I am sure you were provided with verbal notices by your supervisor to stick to your regular uniform. But non-serious excuses from your side cannot be catered on a regular basis.
Therefore, this warning letter serves as a notice of your misconduct. Such irresponsible behavior may risk your job and promotion opportunities. Your supervisor and I would be personally monitoring you in the coming days. We believe that you will be representing the best of your discipline and abide by the uniform rules set forth by the authorities. We will be attaching a copy of the recent "Attire Notice" with this letter. It contains all the necessary protocols to be followed against your uniform and discipline to be maintained.
Yours Sincerely,
[Your Name]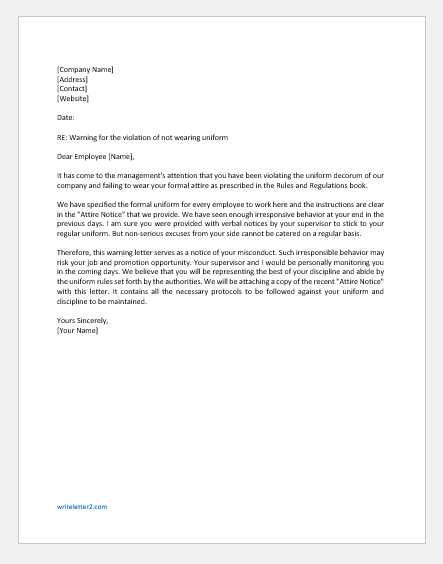 Size: 12 KB Word .doc File 2003 & later
Download
---
Letter 2:
Dear Employee [Name],
We are writing this letter as a formal warning against your uniform decorum. Your supervisors have been noticing your conduct for the past few days. Upon several informal warnings, you were requested to wear your proper uniform. But you still ignored the rules of this company and failed to stick to the formal environment we represent.
Our company has maintained a high degree of professionalism and decency since its existence. In order to maintain the level of competence in front of them, you must pay keen observation of your uniform and never skip the formal attire selection of this company.
This warning letter will be shown in your profile and it will highly affect the evaluation process for your appraisal. This can be a huge loss to your career, and it may affect your position in this company. Be reminded that this is your first yet final warning. Thus, we notify you that if any rule is violated against your uniform decency, then we will be forced to form a disciplinary action and proceed with your demotion.
Thank you for your consideration.
Yours Sincerely,
[Your Name]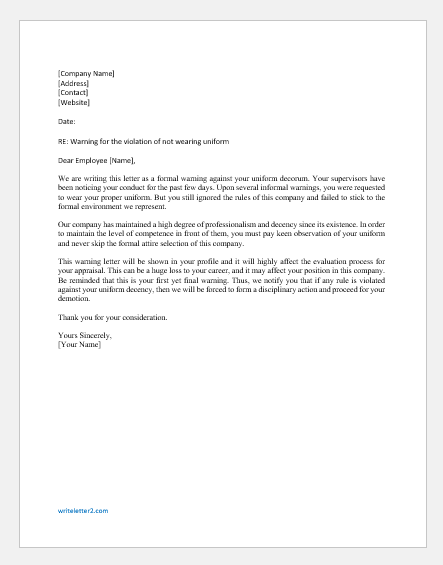 Size: 19 KB Word .doc File 2003 & later
Download