Letter of Apology for Stealing
The main objective of writing the apology letter is to ask for forgiveness. The apology letters are not common these days and they are not considered to be the mode of communication anymore. But still, most of the people prefer writing a letter for apologizing. Writing a letter to apologize for stealing is a unique thing. If you have committed the mistake of stealing, then you can write a letter without any hesitation and ask for forgiveness by expressing that you are feeling sorry for it.
The language that you use in the letter should be polite since you are asking for forgiveness and it should be formal as well. Include the statements in the letter that can justify the reasons of stealing. At the end of the letter, apologize and also promise that you will not do it again.
Letter of Apology for Stealing
Dear [Recipient's Name],
Stealing is a shameful act and I am very much ashamed of my act because of which I am writing this letter to you. I know this is the worst experience of my life but I have learned from it a lot.
I have understood that stealing is not a moral act and it never ends up in anything useful. Now I have realized that it was the biggest mistake of mine and I will never try to go through the same act again.
I want to apologize for stealing the [market stock] from [your shop]. I would like to say thanks to you for not getting me arrested by police or taking any other legal action. I promise that I will do not repeat any such shameful act ever again.
Regards,
[Your Name]
[Senders Title] -Optional-
Download Details: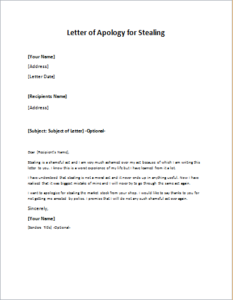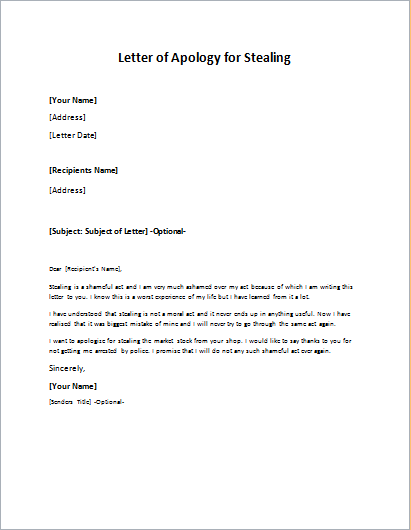 Letter of Apology for Stealing

Size: 25 KB Word .doc File 2003 & later
Download
Size: 193 KB PDF File
Download
[personal use only: Not for Resale & Distribution]