Charity Partnership Letter
1-
Hello, my name is Jackson, and I am writing this letter to you on behalf of my organization, named "Women empowerment society". My purpose behind writing this letter is to introduce my organization to you. We are working for the welfare and betterment of women in society. For this purpose, we undertake charity work in collaboration with various organizations.
I am writing you this letter to let you know that we are going to organize a welfare event and for this purpose, we want to form a charity partnership with an organization like yours. I believe this fact that by working in collaboration with each other, our organizations can contribute well towards the betterment of women.
I want to mention here that we are a newly formed non-profit organization. Since we have just formed our setup, it is difficult for us to fund all the expenses which are expected to organize the welfare event. In addition, we also lagging in terms of experience in this field. Keeping in view these things, it would be better if a great organization like yours, with vast experience in the field of social welfare services, collaborate with us and become our charity partner.
To make an awareness in the society, we have planned to organize an essay writing competition. The writers are expected to come up with innovative ideas as to how a sense of responsibility in society can be built up regarding women's education. Winners of first positions will be awarded cash prizes and educational scholarships.
By establishing a partnership with a worthy company like yours, our non-profit business relations will be strengthened as well. This relation will provide benefits not only to our organizations but also the society. Waiting for your positive reply in this regard.
Sincerely.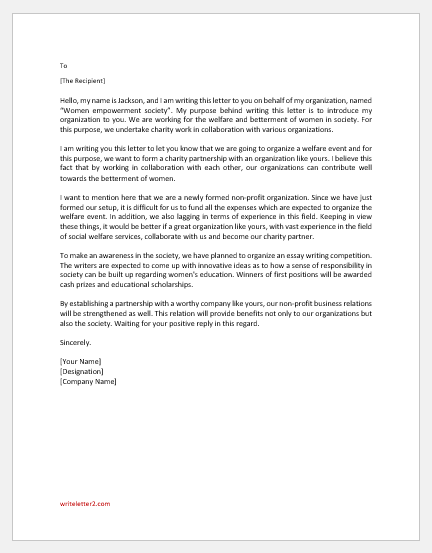 Size: 21 KB Word .doc File 2003 & later
Download
---
2-
I am Kim from "Rising Sun" organization which is a non-profit organization and works for the betterment of women across the country. Through this letter, I wish to introduce my organization to you and make a formal request to establish a charity partnership with us.
Our organization works for the betterment of women in society. We have an aim to inculcate awareness in the minds of deprived women through education. It also aims to give them their right place across the country. We strive hard to make this world a peaceful place to live in where there are equal opportunities for both genders, without any discrimination.
For this noble purpose, we raise funds and invite various renowned firms like yours, to make a partnership with us for charity purposes to achieve our noble target. For this purpose, various shows, concerts, and conferences are organized by us in underdeveloped areas.
Currently, we are looking forward to finding a company to become our charity partner. For this purpose, we are going to arrange a musical concert on [date]. The sole purpose of arranging such an event is to raise funds which in turn will be used for the betterment of society. Surely, by means of this event, we are going to capture much more familiarity and fame and secondly, it will also be an advantage for your company.
I have tried my best to explain all the things. Now, if you agree to become our charity partner, send your reply as soon as possible before this event. Waiting for your positive response in this regard.
Sincerely.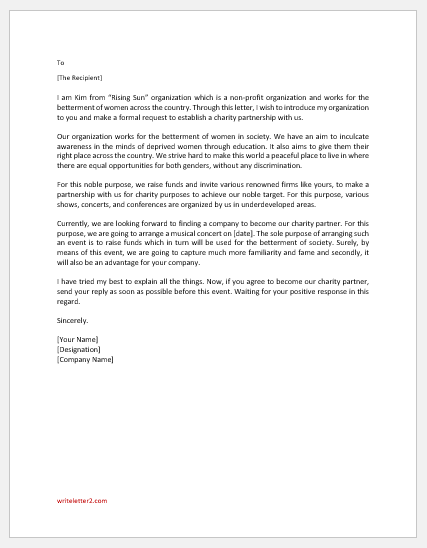 Size: 22 KB Word .doc File 2003 & later
Download