Company Asset Release Letter to Manager
1-
Re. Asset Release Letter for Nancy Dem

Dear Meghan,
This letter aims to direct you to undertake the responsibility of Nancy Dem's release of the company's assets forwarded by her termination. Dem has worked for one year during session 20XX-XX. She has completed her tenure and has been terminated on professional grounds recently. Dem has worked as a regular employee on the designation of Creative Marketing Head.
Due to the sensitivity of her designation, it is important to deal with this termination properly and take up all of the holding assets of the company. I want a reassuring reply from you confirming the progression of this significant task. Kindly contact the HR manager, whom I have already emailed to assist you in their departmental take, and take out the list of the assets that were in the possession of Ms. Dem. After confirming, send her an official email or letter asking her to return the company's assets.
I hope you will work on the given task properly and no article will be missed out especially the sensitive documents and SWOT analyzer of the company.
I would acclaim the reporting of this task within three working days. Thank you
Sincerely,
Ralston Mack
Shamim Group of Textiles
GH 045343, California, River Side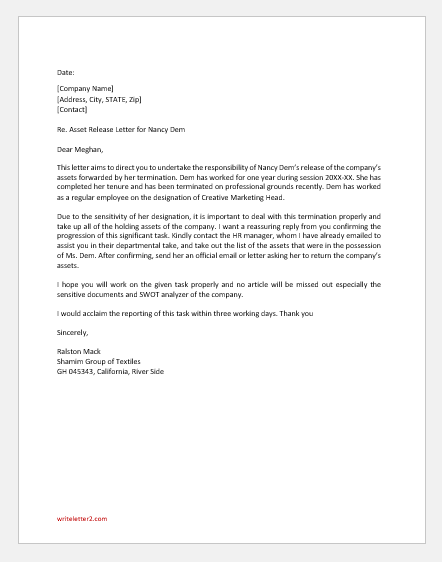 Size: 19 KB Word .doc File 2003 & later
Download
---
2-
Re. Release of Company Assets for Mr. Nelson Jess
Dear Mandy,
This letter has been provided to you with the connection of Mr. Nelson Jess's resignation. As it must be acquainted with you that Mr. Jess resigned from Colinearly Groups for some uncertain reasons on 19th October 20XX, but I am being informed that he signed a contract with another well-reputed company with a better career opportunity.
I prescribe you the responsibility to look into the resignation procedure of Mr. Jess and checkout his remnants. Being a manager, you are required to check all the company's assets released. I would like to have the report on my table within a couple of days. You are expected to make sure the release of the company's assets, their condition, and quality. In case of no return, write a letter/email to Jess and ask him to return the asset as soon as possible. Also prepare a relief letter for him completing his entire remaining payable amount.
I would really admire having his charge sheet and performance plus resignation procedure report duly checked by the HR and Finance department.
Thank you,
Miler Now
Director Colinearly Groups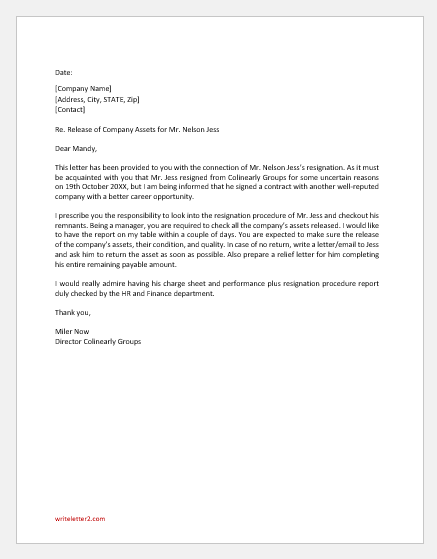 Size: 21 KB Word .doc File 2003 & later
Download