Bonus Letter to Employees during COVID
1-
I am pleased to inform you that company has approved an annual bonus for its employees during COVID. Henceforth, you will be getting 20 percent extra salaries in lieu of a bonus. It's a special bonus being awarded to all employees of the company in response to their sincere efforts during COVID. I know all employees who are showing dedication throughout this hard time without taking into consideration any difficulty. This bonus is a special way to appreciate them.
Being the CEO of the company, I am always committed to the welfare of employees because they are the backbone of our company. It is impossible for any company to flourish without a true appreciation of its employees' efforts. It was a difficult decision to make during a difficult time when the pandemic was shaking the world. But, to enable you to cope with the stress caused by COVID, the company decided to help you this way.
Unlike other companies which announced massive layoff during the pandemic, our company remained intact with its employees. Moreover, employees have been our priority and we want to retain them. I know that many family members of most of my employees have lost their jobs. Some are also struggling with health-related issues. So, my heart goes out with family members of all such employees. That is why I, after consultation with the board of directors of the company, decided to award you a bonus to empower you to fulfill your family needs during COVID.
In the end, I want to thank you all from the core of my heart.
Sincerely,
Robert Jackson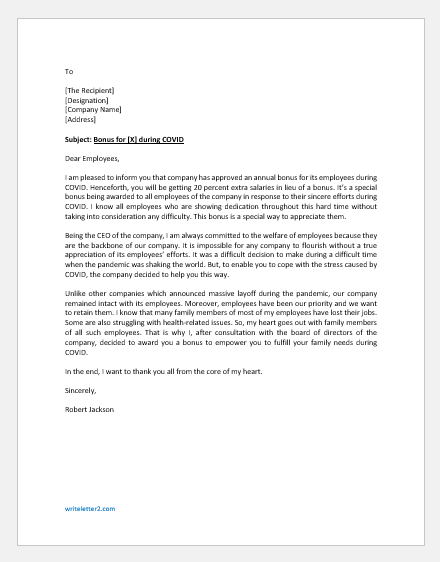 Size: 21 KB Word .doc File 2003 & later
Download
---
2-
Subject: Bonus for [X] during COVID
Dear Employees,
Thank you all for your dedication towards work during this hard time of COVID. Pandemic brought many challenges to our lives and the impressive thing is that you managed to rise above them all. Due to hardworking employees, the company is continuing its production even during this hard time and making a significant contribution to market supply. Now, this was our turn to do something for the betterment of our employees. Therefore, the CEO is pleased to announce a 20% increase in basic pay for all employees of the company.
This special bonus is being awarded to those employees who have spent at least one year with the company. However, those with less than one year of service are also being awarded a 10 percent increase in their basic pay. At [X], we give supreme importance to our employees and strive hard for their recognition and appreciation. It helps increase the motivation level of employees in return. In addition, it is expected to lessen the worst effects of pandemics. It is a common observation that satisfied employees add 12% more to the productivity while unsatisfied ones decrease the same by 10%.
Management knows that the current pandemic is affecting the lives of employees in a bad way. It is triggering the worst job crises across the world thereby increasing poverty and joblessness. Keeping this factor under consideration, this bonus is being awarded apart from the usual 10 percent increase which is awarded annually.
We are looking forward to providing you bonus incentives on a regular and continuous basis. Thank you very much for being and stay connected with us. Stay blessed!
Sincerely,
Anderson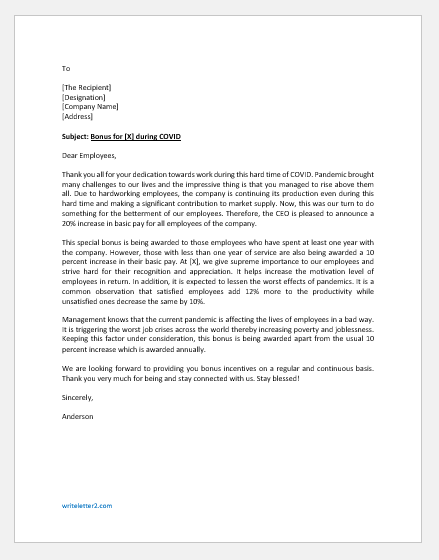 Size: 18 KB Word .doc File 2003 & later
Download