Complaint Letter for Wage Nonpayment
Workers play a key role to improve the production of the company. Only managerial staff cannot do anything till the time co-operative and motivated workforce is not available. This is the responsibility of the managerial staff to keep them motivated and solve their problems on the duty station. Timely provision of salary is one of the basic rights that a worker owes. This not only motivates him but also fulfills his monetary requirement to serve his family. If someone is not getting his wage on time, then he would be mentally disturbed and cannot give a focus attention to his work. In other words, we are depriving his loyalty by making a big mistake because he is spending his days and hours to get his wage for his family and other social requirements. Therefore, this thing should be the prime focus in any company. On the other hand, if a worker is suffering from the said issue, then he should complain about it to his immediate boss and should follow the chain of command in the same way till the time issue is not resolved.
Complaint Letter for Wage Nonpayment
Ebro Steel Mills
Oliver Harrison
56 St. Downtown Avenue, Washington DC.
June 27th, 2017
Mr. Andy Leonardo
Head of Department Operations
Ebro Steel Mills
24 St. Bridge Avenue, Washington DC.
Dear [Recipients Name],
I hope you are doing well. I am boiler operator in the steam department of your company since 2006. I used to get weekly wage until last year December. Then it was decided by the management to provide me the salary on monthly basis. However, I did not get the salary since January 17 till to date. I am constantly complaining the manager for the said issue but in vain. It has been four months and it is very difficult for me to survive further even a week without my wage. Furthermore, I will not be able to come to the company and I will file a case in the court. It is my humble request to solve my issue and my salary of four months may be added to my account.
Sincerely,
Oliver Harrison.
Boiler Operator, Ebro Steel Mills.
Download Details: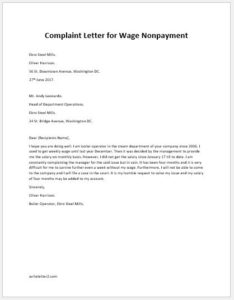 Complaint Letter for Wage Nonpayment
Size: 37 KB Word .doc File 2003 & later
Download
Mobile Version: Polaris Office & Google Docs
Size: 18 KB File
Download
[personal use only: Not for Resale & Distribution]