Short Attendance Notice to Employee
1-
This notice is to notify you that you were under keen surveillance of management and they noticed that you have taken irregular leaves in the last two months. These were taken without giving any prior indication to the organization. This is considered an unethical practice and it was done by you regularly. Now please note that from now on you will not be given any leave either it is half-day or full-day. You have to inform management two days before making use of leave. This is the first and last warning given to you so take it seriously. Thank you.
2-
No doubt your work skills are excellent and exuberant. Anyhow, your attendance record is very poor and it is blocking out your work record. I know that you are facing some serious health problems but regular attendance is the first and foremost priority of the company. This thing creates difficulty lining up when due to persistent absenteeism we cannot take for granted our employees. I have discussed this thing on multiple occasions with you. Now to meet the company's requirements you must have to improve your attendance. Otherwise, we will be compelled to take some disciplinary action. It can also lead to your termination.
3-
It has come to my notice that you were absent from the office for about seven days even without informing. You neither took permission from management nor sanctioned your leaves. You are aware of this that instant off from work disarrays resolve operations and creates operational hassle. Your frequent absenteeism comes under the violation of the company's set rules and regulations. The administration takes an acute view of this. You must need to meet the organization's stipulations to upgrade your attendance. Moreover, you are also directed to elucidate in written form the reason for your sudden leaves.
4-
This thing has been notified by perturbed authorities that you remained absent from the work without asking for or taking prior consent from your manager. From 12th July to 3rd August, you came to the office only for six days. This is regarded as a symbol of serious dereliction of duties counterman deliberate insubordination. If you take leave without informing before time then you are comporting unethically and paving a way for disciplinary action to be taken against you.
Hereby you are warned to not continue this attitude in the future. In case if you do you will entreat pertinent punitive action. As in past, you have not taken uninformed leave, therefore, it is requested to you to explain unsanctioned leave in next two days after coming by this letter. One copy of the same letter has also been kept in your employee's file. Kindly take the warning seriously.
5-
This notice serves as an official warning to you to accentuate the solemnity of your taking unsanctioned leaves from the work. Last Friday, without giving prior notice to your manager you took leave. This written warning comes right after the verbal warning you sustained following multiple unauthorized leaves from your job. In the truancy of mitigating exigent circumstances, this attitude is considered an emblem of gross sloppiness from your duties.
If further such unauthorized leaves occur then you will put yourself to possible disciplinal action. The company regards attendance and takes it as the vital factor to employee's disposition. It is hoped that you will cling to the organization's attendance presuppositions to circumvent further gestures.
6-
I hope you have been doing well. This notice is to bring to your attention the regular absenteeism from the office. It has badly affected your attendance record. You cannot take leave without informing before time to your supervisor. Further action of such kind will result in the termination of your job. This is the last warning given to you and I hope that you will adhere to the company's presuppositions. Thank you.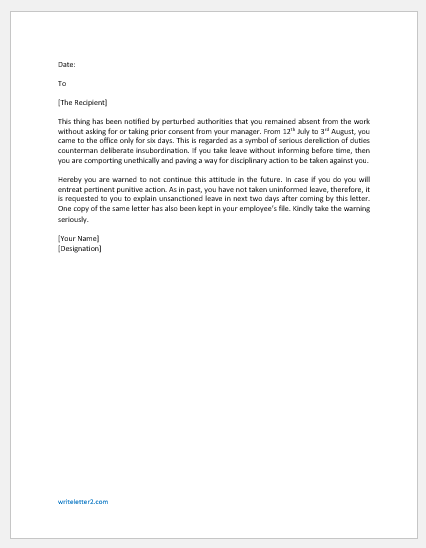 Size: 19 KB Word .doc File 2003 & later
Download