Letter to Make Correction in Salary
Subject: Letter to make correction in salary

Dear Sir,
I hope you will be fine. I am writing this letter to bring into your notice that due to unknown reasons, I have received an incorrect amount of salary in my account for the current month. I was surprised at seeing the salary details because my net monthly salary is USD 5000, after a tax deduction but I have been paid only USD 3500 in lieu of this month's salary. Sir, I will not be able to look after my daily affairs with this substantially low amount. I joined this company five years back from now and since then I had never faced such an issue.
Moreover, the amount credited to my account is incorrect as it is USD 1500 less than the negotiated amount. This is a matter of great seriousness for me as I am a salaried person and I have to look after my all expenses with my salary. I had never been late in terms of completing the tasks assigned to me and I am a loyal person with my company, but this situation could create a serious financial problem, if not addressed on time.
I had discussed this matter with the chairman HR, but he did not show any interest to resolve my issue. It is therefore my humble request to you please investigate the matter and resolve my issue in minimum possible time so that my salary for the current month could be corrected as soon as possible. Thanking you in anticipation.
Regards,
Robert Lee,
Communication Manager,
XYZ Industries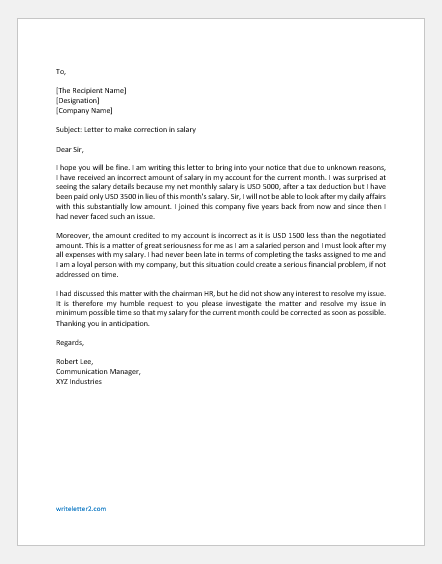 Size: 20 KB Word .doc File 2003 & later
Download
---
Sample -2
Subject: Letter to make correction in salary
Dear Sir,
I, Michelle Robert, working as a communication assistant in your company, want to bring into your kind attention my incorrect salary matter. Through this letter, I am forwarding my formal request to you to make a correction in my salary. I am noticing a variation in the salary amount that is being credited to my account since last month. It is incorrect or you can say a less amount than that of the negotiated one.
Last month, I was credited with [amount], which was [amount] less than that I receive in lieu of my salary. For some reason, I did not think it appropriate to complain about the matter at that time because I thought that it may have been happened due to a mistake in the accounts department. So, I waited for the matter to be settled down by itself. Contrary to my expectations, again for this month, I received [amount] USD less than that of my monthly salary. This mistake is far from being understood really. This variation in salary is unaffordable for me because it can lead me towards the financial crises.
I wrote the accounts department too before writing to you, but they are busy preparing themselves for annual audit. So, I request you to take a personal interest in my matter and do something in order to make corrections in my salary. At the same time, I request you to adjust the remaining amount. Thanking you in anticipation.
Yours truly,
[XYZ]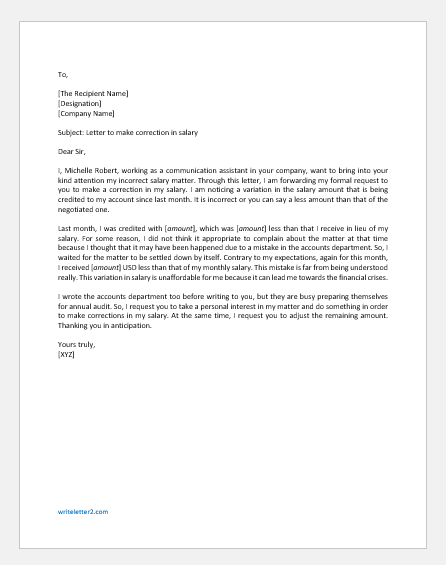 Size: 21 KB Word .doc File 2003 & later
Download