Complaint Letter about Food Quality
The quality of food is the main subject of concern. A healthy diet is attributed to the quality of food. The food quality management is obliged to maintain and control the food type that is being delivered to the consumers. The weather and climatic changes have a strong effect on the food quality. In addition, the fruits and vegetables are best to consume in this season. Preserved fruits and vegetables affect the quality of food. The human body is easily prone to get affected by contamination or bacterial effects of any kind of food. Many times, it happens that if we eat some food that is not fresh, we get food poisoning. Sometimes, restaurants also deliver the low-quality or spoiled food that has adverse effects on the health of a person. The ingredients, packaging along with labeling are important regarding food quality. When someone faces the issue of spoiled or poisonous food, he should make a complaint to food authority. Also, he can make compliant to the providers of that food to make them aware and careful in future.
Complaint Letter about Food Quality
Afro Care Company
Chris Mc. Dave
24 St. Town Avenue, Carson.
July 28th, 2017
Mr. Peter Bullock
BJ's Restaurant
14 North St, Diamond Avenue, Carson.
Dear [Recipients Name],
I am Chris Mc. Dave. I am writing to complain about the worst quality of food at your restaurant. Yesterday, I had an official dinner at your restaurant. This dinner was arranged by me for my company. I am extremely disappointed with the consequences. My boss was simply amazed at the food quality. As it was a family dinner, the food quality was the main concern. Three of the kids got severe illness after reaching home. And the doctor diagnosed that the food was contaminated that lead to infection in the kids. My boss is much angry on the choice of restaurant. Based on the architecture and decoration of your restaurant, I thought it to be the best in food quality. But, you just disappointed us. I request you to keep the priority on the quality of food rather than external decoration.
Hope you will be careful in future.
Sincerely,
Chris Mc. Dave.
Supply Manager, Afro Care Company.
Download Details: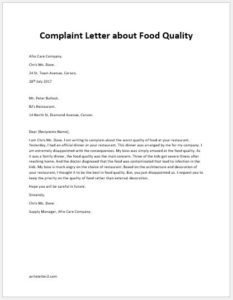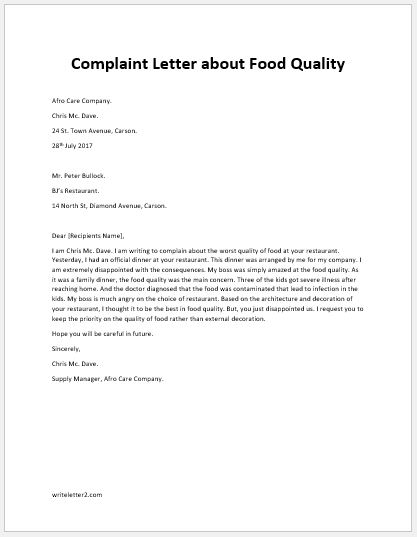 Complaint Letter about Food Quality
Size: 49 KB Word .doc File 2003 & later
Download
Mobile Version: Polaris Office & Google Docs
Size: 20 KB File
Download
[personal use only: Not for Resale & Distribution]