Complaint Letter for Loud Music
Everything seems good when it is done by keeping a balance. As it is a famous saying "excess of everything is bad". All activities revolving in the life of a person need to be in balance and order. Like when it comes to the end of music, it is a source of joy and pleasure. It is considered as a stress reliever. It gives happiness and peace in trying times. In all informal events, music is the main ingredient of celebration. Nowadays, late night parties and gatherings of youngsters are becoming much common. And such parties are celebrated with much loud music. People have the freedom to have fun and frolic. But such freedom should not be annoying for others. And when it becomes excessive it results in big quarrels among people. One should be aware of the rights of other people in the surroundings especially neighbors. When one creates loud noises especially of music, it teases the neighbors. In return, the neighbors make complaints.
Complaint Letter for Loud Music
Ethan Alexander
Frere Residency.
Block 24B, Sun Set Avenue, Florida.
9th June 2017
Mr. Mathew David
Frere Residency
Block 24B, Sun Set Avenue, Florida.
Dear [Recipients Name],
I hope you are doing well. I am writing to make a complaint about the loud music noise coming from your home on daily basis. I am trying to avoid any quarrel but as time is passing it is getting on my nerves. Your family keeps the music on all day long in much loud volume. My wife tried to talk to your wife, but they responded much rudely. My wife is a working woman. And my children are university going. When they come in the afternoon, they are much tired. Because of the loud music, they are always unable to rest for a little time. Being a neighbor, you and your family must be aware of our rights. I am talking to you firstly, as you are much sympathetic and mature person. But, if the problem still persists, I would make a complaint to the landlord. I hope you will sort this matter out much sooner.
Hope to keep good relations.
Sincerely,
Ethan Alexander
Download Details: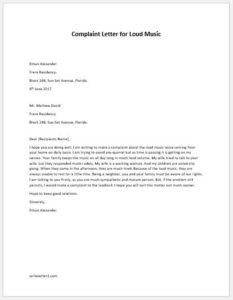 Complaint Letter for Loud Music

Size: 32 KB Word .doc File 2003 & later
Download
Mobile Version: Polaris Office & Google Docs
Size: 23 KB File
Download
[personal use only: Not for Resale & Distribution]