Letter Announcing Bad News to Employees
Sample -1
I have been given the responsibility to announce this hard news to all of you. You all know that pandemic has hit hard across the globe. It has caused a severe economic crunch and pushed many renowned companies back onto their own feet. The same is true in our case. It is hereby announced with deep regret that the company's turnover for the last fiscal year was very low.
Consequently, the company is facing financial crises nowadays. Keeping in view the whole scenario, it has been decided by the company to reduce its workforce by the end of this year. The said decision has been made to cut down the expenses of the company to a significantly low level.
The situation was anticipated during the onset of COVID 19. We strived hard to avoid crises but failed. Now, we have no other choice but to stabilize our company but to announce this layoff. Due to the closure of many departments, the jobs of a number of employees will be terminated. Employees having more than 10 years of service need not worry at all. The focus of the company is to terminate fresh, part-time employees and internees.
Unfortunately, the services of some of our employees will also be terminated who have contributed towards the development of the company but are having less than 10 years of service.
Management is grateful for your sincere efforts toward achieving the goals of the company. Your diligent work enabled us to stand among the top companies in the country. During this time of financial insecurity, your sincere cooperation will be highly appreciated. Be assured that it is the only choice that has been opted for. But it is only a temporary solution. We hope to come out of this economic crisis soon.
When we stabilize and we get back to the profitable business again, we will need new employees and our terminated employees will be contacted first.
It is also assured that terminated employees will not be left alone. The list of employees to be terminated is being prepared and management is in contact with its permanent business partners to help the terminated employees find a suitable jobs. We are ready to support you until you find a new job.
Regards,
Company management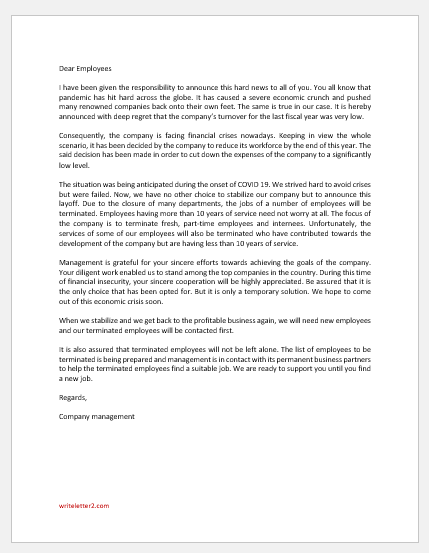 Size: 21 KB Word .doc File 2003 & later
Sample -2
Dear employees,
It is never easy to announce an unusual change. There comes a time when a company has to move forward with some aggressive decisions in order to come out of the crisis. We as a company are putting our intensified efforts to get back to our core business. For this purpose, new resources are being deployed by the company.
To fulfill the desired goals of the company, it is with the deepest regret that the company has made the tough decision of laying off its employees on large scale. The said process is expected to start next month. The process of informing the eliminators has started today.
Approximately 500 employees including fresh ones and internees will be losing their jobs because of this layoff program. We pay our regards to all eliminators for putting their best efforts to achieve the company's goals.
There is yet another bad news even for those who will survive this layoff. As a result of the economic recession, management is not able to pay annual bonuses to its employees. This decision has also been made keeping in view the current market scenario. Management knows that it is hard to announce such kind of news but there was no choice left other than this.
This is not the first time we faced such a situation. We faced the same situations on several occasions and responded to them well. Unfortunately, the situation was worsened by the pandemic this time. We strived hard but couldn't save ourselves from economic recession.
As soon as we get back to our routine business and survive this crunch, we will need new employees then. Those who are leaving their jobs will be given preference over outsiders. For now, the company is putting in its sincere efforts and will continue till the relocation of its last terminated employee. So, stay calm and have patience. Your cooperation will be highly appreciated.
We wish you all the best of luck.
Regards,
Company management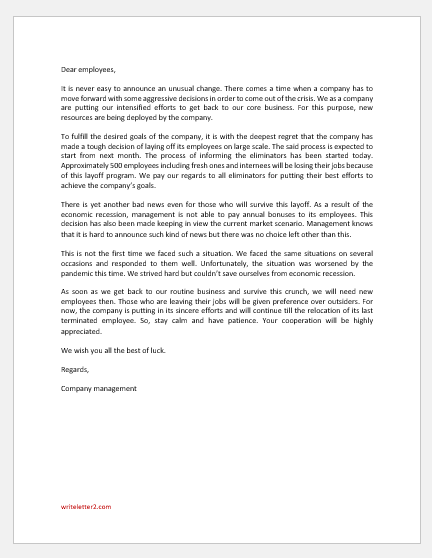 Size: 21 KB Word .doc File 2003 & later
In businesses, there is not always good news. Profit is what businesses seek but the loss is nonetheless the part of businesses. Apart from loss, there is other bad news that one may have to announce to his employees. Since in the professional sphere, everything is done in written documents, good and bad news are also given in the form of memos and letters.
Announcing bad news to an employee especially if it is a business loss, a scandal or a declining reputation is a tricky job. Employees might exhaust themselves at the revelation of the news. So here an employer has to encourage and motivate them while informing them of the bad news.
This letter given below can be written in order to inform employees about bad news.
Sample -3
Dear (Recipient's Name),
Many of you might already be aware of this bad news of [enter news]. I have written this letter to inform you all about it. The good and bad news is part of businesses like it is a part of life. I have come to know that some of you have taken serious effect of this news and are planning to leave employment to look for better opportunities. This is a natural reaction but my suggestion to you all is to stay motivated. The bad news is followed by the good news too.
In this hard time, we need to stay strong and keep doing our work. I have also planned a meeting on [enter date] to discuss the whole situation with you. All employees are requested to attend it. I would once again say that don't let this bad news of [enter news] affect your work. Keep working passionately and honestly as always.  Thank you!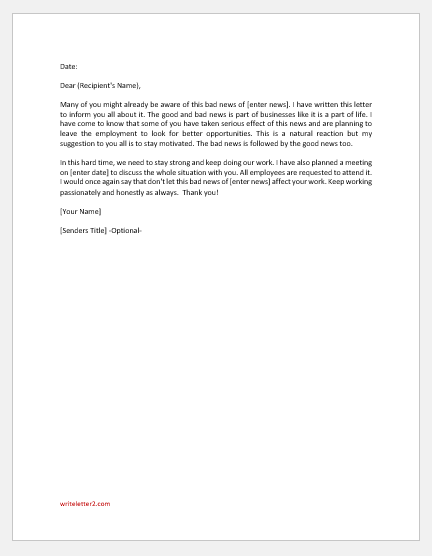 Size: 19 KB Word .doc File 2003 & later