Letter of Apology on Student's Behalf
During the course of academic education, there come times when students can show misbehavior in their attitude. In the case, the student is an adult he can be given a realization of his mistake and can be convinced to apologize for his behavior.
However, some students who are not as mature as to realize their mistake can only be given a counseling session and the proper apology is to be made by someone else on their behalf. The letter given below can be written to seek an apology from someone on behalf of a student for misbehavior or wrong conduct with the teacher or other school staff.
1-
I deeply regret the incident that took place on [date]. Our class was in the chemistry Laboratory for the science experiment with our teacher Mr. [name] and the Lab assistant Mr. [name]. Mr. [name] explained the basic concepts to us. Then he explained the steps involved and told us to start working in pairs.
When I went to collect the chemicals required to perform the experiment, the lab assistant was busy so I took the bottle placed on his desk and came back to our place I had no idea that instead of [chemical] the bottle had [chemical] and mixing it with [third chemical] would cause a blast and burn my friend's hand.
I am extremely sorry for the pain and discomfort I caused my friend and the damage to the laboratory equipment. It was due to my negligence that everyone involved had to suffer. I will pay for all the damages done to the laboratory and also help in the clean-up process.
Please forgive me as it was an honest mistake and not done out of malice or mischief. I have learned my lesson and would never be careless with the chemicals and always ensure that I am using the correct chemical in my experiment.
Looking forward to your forgiveness,
2-
I want to convey my son's deep regret and embarrassment about the incident that happened on [date]. The students were really excited due to the spring break coming up and wanted to have an end-of-term party.
They did not inform the parents that the school had not allowed them to have a party and they were arranging it on their own. Hence we provided them with the party supplies. The hooliganism and rowdiness the boys started are really regrettable.
I have strictly reprimanded my son on this thoughtless and stupid incident and he has promised not to get involved in any such foolishness again.
Please forgive him and overlook his mistake this one time and you have my guarantee that such an incident would not be repeated in the future. He will help in the cleaning up and pay for any damages to the wall paint or class furniture from his pocket money.
Everyone makes mistakes once in a while but if we learn from those mistakes and do not repeat them, then we can grow wiser and all is not lost. Looking forward to your forgiveness,
Yours sincerely.
3-
Dear Sir/Madam,
As an [principal] of [enter school name], I am writing to you in order to apologize on behalf of one of our students. I was informed of the whole incident that took place at [enter event] which was organized at your school. The purpose of the event was to engage students in co-curricular activities and allow them to learn through different competitions.
Unfortunately, they took the competition on personal grounds and found the final decision of the judge biased, one of our students misbehaved with him. He failed to realize that in competitions, only one can win and the rest are runner-ups. Even if the decision was biased, he should not have behaved the way he did. After I personally talked to him, he realized his mistake and was sorry.
I am also extremely sorry that such an incident disturbed the environment which was otherwise supposed to be refreshing and joyful. Please accept my heartiest apologies on behalf of our student [enter name].
Thank you!
Sincerely,
Download Details: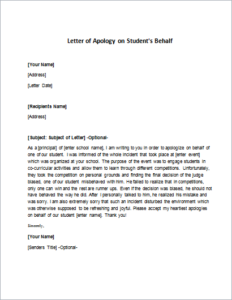 Size: 29 KB