Letter of Apology on Student's Behalf
During the course of academic education, there come times when students can show misbehavior in their attitude. In the case, the student is an adult he can be given a realization of his mistake and can be convinced to apologize for his behavior. However, some students who are not as mature as to realize their mistake can only be given a counseling session and the proper apology is to be made by someone else on their behalf. The letter given below can be written to seek an apology from someone on behalf of a student for misbehavior or wrong conduct with the teacher or other school staff.
Letter of Apology on Student's Behalf
Dear Sir/Madam,
As a [principal] of [enter school name], I am writing to you in order to apologize on behalf of one of our student. I was informed of the whole incident that took place at [enter event] which was organized at your school. The purpose of the event was to engage students in co-curricular activities and allow them to learn through different competitions. Unfortunately, they took the competition on personal grounds and finding the final decision of the judge biased, one of our student misbehaved with him. He failed to realize that in competitions, only one can win and the rest are runner ups. Even if the decision was biased, he should not have behaved the way he did. After I personally talked to him, he realized his mistake and was sorry.
I am also extremely sorry that such an incident disturbed the environment which was otherwise supposed to be refreshing and joyful. Please accept my heartiest apologies on behalf of our student [enter name].
Thank you!
Sincerely,
[Your Name]
[Senders Title] -Optional-
Download Details: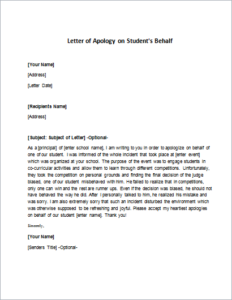 Letter of Apology on Student's Behalf
Size: 29 KB Word .doc File 2003 & later
Download
Size: 166 KB PDF File
Download
[personal use only: Not for Resale & Distribution]