Request Letter for Replacement of Office Equipment
1-
Re. Replacement of the Office Equipment

Dear Sir, with reference to the above-cited subject, I am writing this letter to request you to replace my office equipment. The ambiance of working and tools of working are the two most important and primarily influencing factors while endeavoring to produce fair and productive content.
If one works with old and broken furniture, slow and outdated computers, rusty file stands, and falling cabinets, then it is evident that the quality of work will be affected by these circumstances.
Sir, the computer installed in my office is quite old and outdated. Initially, I thought it must be some software problem but later the IT Department staff confirmed that it is due to the fact that this computer belongs to an older generation and that is why it keeps on lagging and shows really slow working.
Besides the computer, the cabinets of the office need to be repaired or replaced because the wood is getting a lot of termites and thus it is about to fall. Moreover, other little equipment like document stand, file keeper, and folders also need to be replaced.
The stapler that is used in the office is also damaged and the filing cabinet is also broken at the handle. The printer of the office is also out of order and needs to be replaced as suggested by the IT department.
Sir, so much damaged equipment in the office affects my working capacity as it creates a lot of annoyance and it becomes tough at work. It makes me tired and gives me slow progress with, sometimes, below-average results.
I request you to replace my office equipment as soon as possible so that I can step out of this annoying situation. I hope you will understand my plea and act upon my request. I have also forwarded my office' images to you via email so that you can better understand my problem.
Thank you in anticipation.
Regards,
Jessen Nil
Mercantile Head
Grasso Kane Groups
3042-KU street N NYC.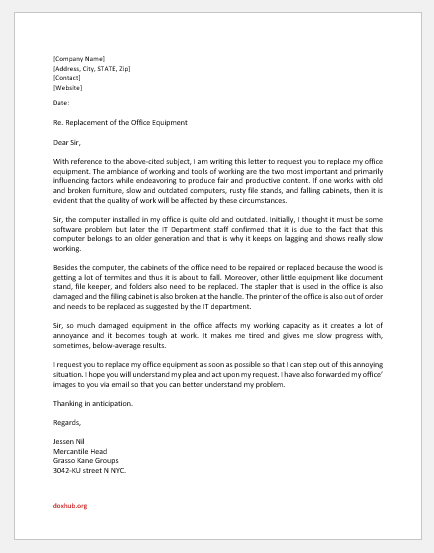 Size: 14 KB Word .doc File 2003 & later
2-
Dear Nancy,
I am Rudyard Node, Quality Assurance Manager in this company. I purpose this penning as a humble request to you to approve the replacement of the equipment of the conference hall.
As you know the conference hall keeps a vital position in any office as it acts as a hub in the company. The entire official meetings in which people from different national and international organizations participate and let us be the host. The conference hall is the impression maker and hence the whole company and its integrity are being judged by the conference hall and its equipment.
I want to inform you that most of the official equipment of the conference hall is not in good condition. The multimedia projector is interrupting a lot and is not functioning properly for the last month. It has been repaired several times, but it always creates an interruption while meetings.
Moreover, personal screens and speakers are also not working properly. The remote control is also out of order and the wallpaper is also worn out now. The UPS that we use as an electricity alternative is also out of order which means if any time, electricity gets out of order we will have only access to embarrassment in front of outside guests and clients.
Sir, it would be a huge favor as well as a great step towards flourishment if we replace a few pieces of equipment in the conference hall and create a proactive ambiance of working.
I hope you will favor your office and its staff by installing some new equipment badly needed. I shall be thankful to you.
Regards
Rudyard Node
QA Manager, Mega Silk Groups, and Co.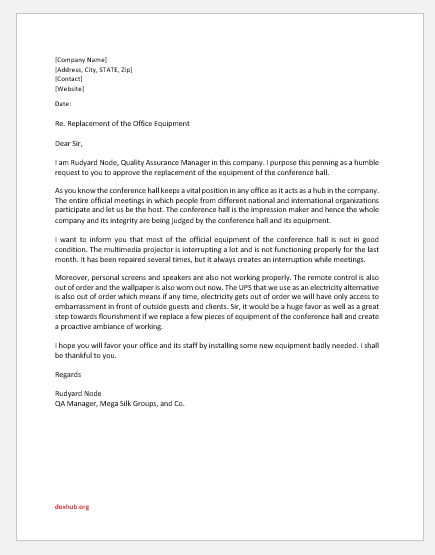 Size: 14 KB Word .doc File 2003 & later