Lease Violation Letter to Landlord
1:
I am writing you this letter to inform you that you are involved in a violation of our lease agreement which started on [date]. As per the terms and conditions of that lease agreement, you were bound to make minor repairs in addition to the sewerage work which was not working well at that time when we signed the contract.
Now, it has been more than one year. Since then, I am residing in your apartment on rent and paying a relatively large amount in lieu of rent as well but in return, I am gaining nothing. No repair has been made by you during this period and sewerage pipe has also been found to be leaked which is causing problems in doing routine domestic works. Dear Alex, I want to say here is that what you are doing is not fair and a clear-cut violation of our lease agreement.
It has already been mentioned that I am paying a relatively higher amount in lieu of house rent and keeping in view this factor, I should have been facilitated from your side as early as possible. But I am sorry to say, your attitude has made me disappointed and I have been forced to think about another option for my residence.
But, taking into consideration our one-year-old landlord-tenant relation, I want to give you some more time for the purpose of repair work. I am hereby informing you that I will wait for 15 more days. During this time, if I don't see any progress from your side, then I will be forced to shift to another place.
I hope you will give due consideration to my letter.
Yours truly,
[XYZ]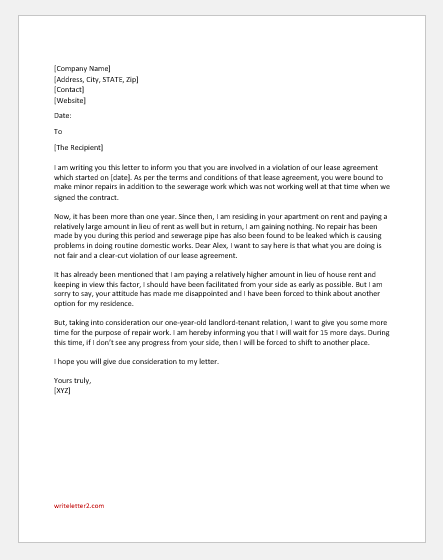 Size: 21 KB Word .doc File 2003 & later
Download
---
2:
I am Stewart, currently residing in one of your apartments as a tenant for the last two years. I am writing you this letter in order to inform you that you have involved yourself in violation of our lease contract which was signed two years ago at the time when I was shifting with my family in your apartment. It was clearly mentioned in the lease agreement that you will not visit your apartment without prior permission even for the purpose of inspection.
Yesterday, when I was out for a business meeting, you came to visit the apartment. My wife thought that you might have sought permission for this purpose and therefore, she allowed you to inspect and you visited each room of the apartment. I was extremely surprised when she told me because you had not taken permission for inspection purposes. My dear, this is not a good practice and is a violation of our lease agreement. I remained silent earlier on two occasions when you had not asked me to visit the apartment. This time, I could not stop myself from writing you this letter because I do not want anybody to enter my residential place without my permission.
I want to inform you through this letter that such a type of violation will not be tolerated by me in the future. If you carry on with the same routine, I will be forced to shift to another place as a tenant.  I hope you have understood the whole scenario and therefore, will not give me any chance to complain.
Yours sincerely,
[XYZ]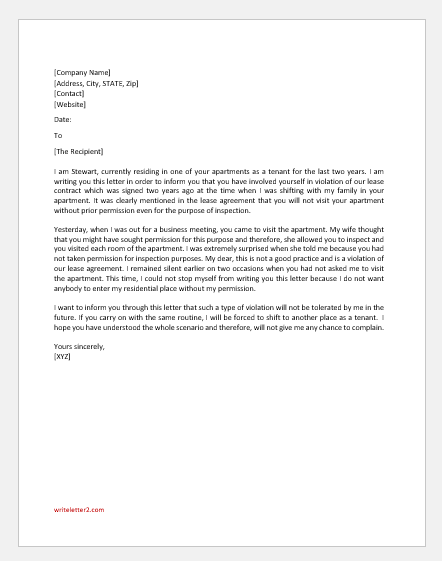 Size: 22 KB Word .doc File 2003 & later
Download