Request Letter to Principal for Original Certificate
1-
I hope you will be fine and enjoying the best of health. My name is Rogers and I am writing you this letter in order to forward you a formal request for the issuance of my original A-levels certificates.
This can also be verified from the record that I have been a student at your school during the Academic session of 20XX-20XX bearing roll number X. I passed my A-levels with distinction by securing the first position in the class. Moreover, I also earned my name in sports because I was declared the best athlete of the year for five consecutive years. In order to proceed with my higher education, I am seeking admission to [ABC] university and it is mandatory for a student to present his/her original certificates along with a duly signed character certificate before the admission committee of the university.
I, therefore, request you to grant me original certificates issued by the university so that I would be able to secure admission for under graduation studies. To determine my eligibility for the character certificate, you can also ask my class teacher about me. Kindly issue me the said certificates as soon as possible and if there are any other formalities, please let me know. Thanking you in anticipation.
Yours obediently.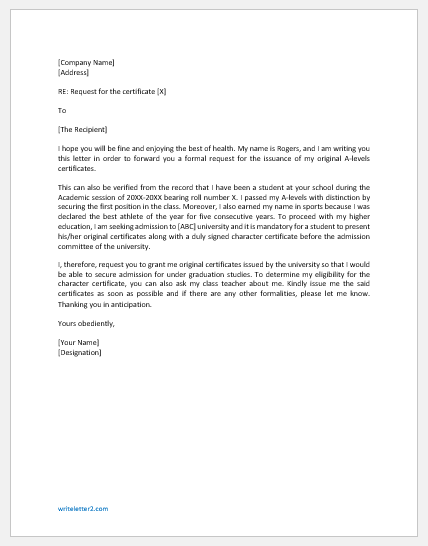 Size: 21 KB Word .doc File 2003 & later
Download
---
2-
Dear Sir,
My name is Anderson and I have been a student of A-Levels in this institution during the academic session 20XX-20XX. Through this letter I want to inform you that I have passed the said examination under roll number X, by getting 6 A grades, thereby securing the first position in my school and therefore I am sending you my formal request to issue me the original result card of A-levels along with my character certificate.
I am hoping to secure admission to [ABC] university which is known as one of the prestigious institutions in the country. It is mentioned in their prospectus that the presentation of original documents such as result cards and character certificates before the admission committee is a pre-requisite in order to secure admission in any undergraduate program of the university. You are therefore requested to issue me said certificates as soon as possible so that I would be able to secure admission in a degree program of my choice.
It can be verified from the records that I have cleared my all expenses for the school. Moreover, you can find witnesses from my class and other subject teachers in order to determine my eligibility for a character certificate. If there is any other requirement for getting original certificates, please let me know so that these can be fulfilled at the earliest.
In the end, please entertain my request and dispatch my original result card and character certificate to my home address at your earliest. I shall be very thankful to you.
Yours obediently.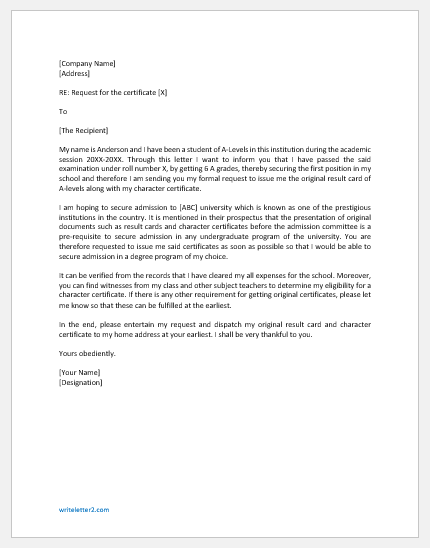 Size: 20 KB Word .doc File 2003 & later
Download