Promotion Announcement Letter to Employee
1-
I am glad to announce that Mr. Ahmed who has been working with us for ten years as a clerk is successfully promoted to the post of Junior Manager with effect from 21-Sep-20XX. As he has shown great effort in his career, the HR department has decided to promote him.
First, thank you for being a part of us. Secondly, I congratulate you on your brilliant success. Now your new duties would be the following:
To monitor and manage inventory on MS Excel.
To supervise the work of non-management employees.
To co-supervise the new management projects with the manager.
To handle clients and public relations
To schedule and re-schedule the duty timings of the employees.
To oversee the day-to-day operational matters.
To report to the general manager.
Kindly report on duty from 21-Sep-20XX sharp at 9:00 am and make sure that you wear the proper dress code as per your designation. I hope that you will show the same dedication in your new post as you have showcased in your previous role.
Moreover, your salary package has also been revised, you will be informed about the raise by the HR department via email. If you have any further questions, you may contact the Human Resources department.
Many congratulations to you once again for the new post. Best wishes for the future.
Regards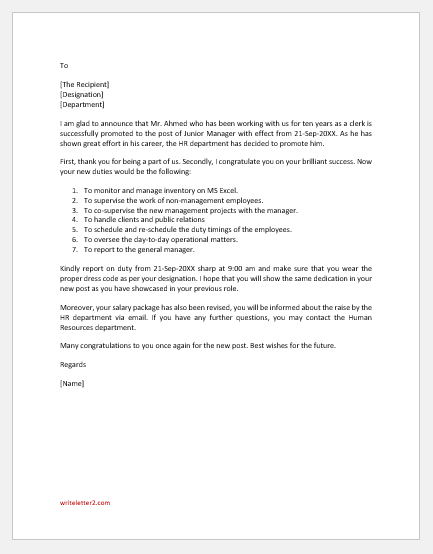 Size: 12 KB Word .doc File 2003 & later
Download
---
2-
I am pleased and honored to inform you that you have been successfully promoted from Lecturer to Assistant Professor with effect from 10-Jan-20XX. Due to your diligent efforts and hard work, finally, you have achieved your goal.
Moreover, you have also been selected as a batch advisor for our new intake. I truly appreciate your dedication to your work and today is the day of celebration for you.  Following are the new duties that you will be fulfilling in the future.
Working on research articles.
Attending departmental meetings.
Providing support to professors and other faculty members.
Representing the University at different academic Conferences.
Maintaining the discipline of department.
Help and train the new faculty members.
Publishing at least one research paper in an HEC approved journal (X, Y or Z category)
To advice and counsel your batch (new-intake spring 20XX)
To keep record of all the meeting held with the batch and reporting it back to me in form of minutes of the meeting.
To enroll students of your batch into their respective courses.
Kindly report on duty from 10-Jan-20XX at 9:00 A.M. I hope you will work hard in the future same as you have done in the past. If you have any further queries related to your new post, you can contact me on [X] number. Moreover, you can also send messages via email.
I hope you will not let me down for this decision that I made for you. I would like to say good luck to you in the future.
Regards.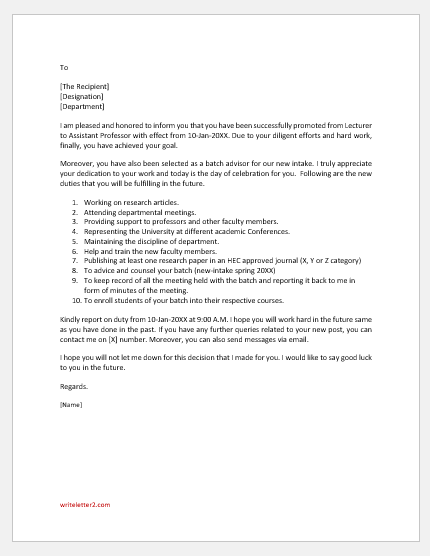 Size: 11 KB Word .doc File 2003 & later
Download