Proposal Letter to Supply Food to Office
1-
Dear Mr. McKay Holsten,
Good day. I am writing to propose my food service for your office in West England. I am a home baker and have been selling my baked items from home for the past three years under the name of 'Home Treats'. I have several years of cooking experience, and I also have a degree in culinary arts from West England School. Through my small business from home, I have made a lot of loyal clients in the area who have tried and loved my food.
You can check my food blog '[Blog Name]' where I regularly upload pictures of my food items and customer reviews. I would like to propose a business plan in which I can supply my food to your office daily at wholesale rates.
I have expertise in making bread, burgers, sandwiches, and everyday bakery items. We can discuss the menu in detail, and I can add anything to the menu that you request. Usually, clients prefer a quick fix for lunch at the office like a sandwich or burger which I specialize in making.
We can come up with a menu which is convenient for me and useful for your office cafeteria. I am willing to sell my items at 10% less cost if purchased in bulk and on an everyday basis. I can also arrange desserts like cake or pastries if you wish. I have assistance at home who will help me prepare all these items, so you get them every day on time. Let me know if you wish to move forward with this business proposition.
Looking forward to your response,
Regards
Anna Winter
CEO Home treats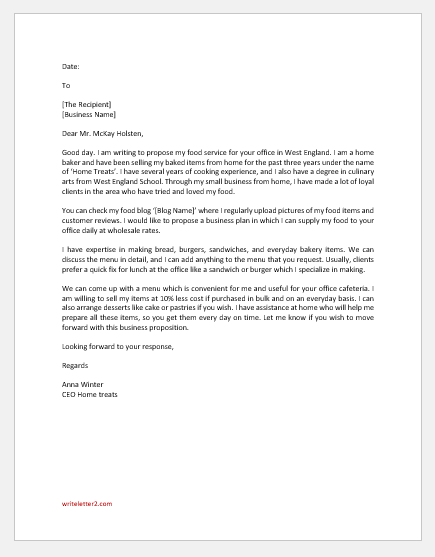 Size: 20 KB Word .doc File 2003 & later
Download
---
2-
Dear Mr. John Fritzl,
I am writing to make a business proposition to you to supply food items to your office. I saw your advertisement in the local newspaper regarding the need for a food item supplier for your company. I run a small business of savory and sweet items in your city by the name of 'Home basketry'. I have been cooking for the past three years and am familiar with the local cuisine.
Some of my food items are very popular with the local clients such as chicken wraps and fish panini. Through my business, I have made many loyal customers who purchase my food on a regular basis. I am willing to supply food to your company on daily basis at wholesale rates. My kitchen is near to your site office, and I can easily deliver fresh food items to your workplace near lunchtime.
I have the capacity to prepare food for a hundred people on a regular basis. You can try my food initially for hundred people at a time. If you are satisfied with my service, we can continue with our collaboration, and I can hire helpers to prepare food for more people. I have attached the rate list with this letter for your reference. Please let me know if this proposition is suitable for you so we can arrange a meeting and discuss things in detail.
Thank you very much for your time. Looking forward to hearing from you.
Regards,
Ms. Rosie Hanna CEO Home Basketry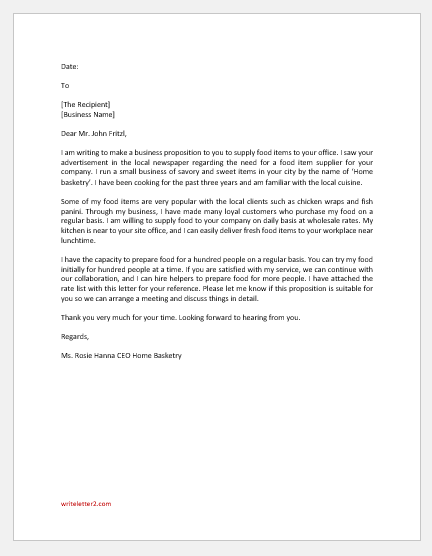 Size: 21 KB Word .doc File 2003 & later
Download